WordPress is well-known for its customization options and plugins that can give any website a unique feel. You can alter everything from the website's banner to the actual method of switching between two pages. There are really no limitations when it comes to WordPress and it stands to reason that they would have plenty of different image and video gallery plugins that would work for a variety of different websites. These plugins effectively give your WordPress site a virtual library of potential videos and images in a variety of different file formats.
As with many other features on WordPress, the codes for these galleries can be difficult to decipher if you don't know what you're looking for. Luckily, many of the providers take the coding burden off the user by making their products usable without code. This is helpful both for novices and for those who don't want to waste the time editing the video galleries themselves.
Also, a lot of the plugins that are compatible with WordPress won't be compatible as standalone plugins. That means, if you try to use WordPress plugins on a different website that isn't run by WordPress, the plugins likely won't work. Many developers try to give their clients options when it comes to plugin compatibility, but if you have a WordPress site, you can just stick with the WordPress plugins.
For the most part, these video galleries will be able to play a wide variety of different videos from other hosts like YouTube and Vimeo. Some plugins expand their reach to different file types. Below is a list of 20 of the best image and video gallery plugins for WordPress.
Images and Video Galleries WordPress Plugins
Video Gallery WordPress Plugin /w YouTube, Vimeo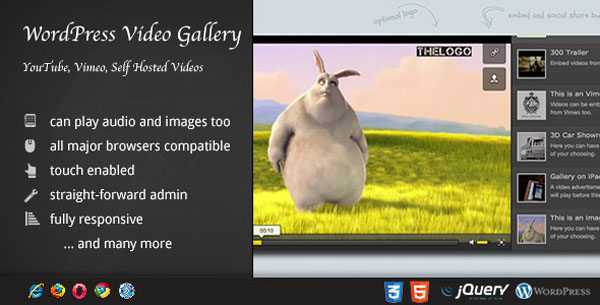 This plugin has enormous functionality and usability. It has a variety of different video gallery styles and also features extensive support. The galleries are streamlined for you to be able to pick and choose while also seeing which videos are up next in the queue.
Media Grid – WordPress Responsive Portfolio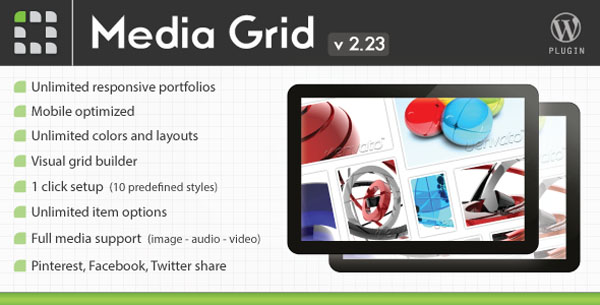 This plugin has unlimited colors, layouts, and responsive portfolios. It's augmented to play on mobile devices and includes three different kinds of media: audio, image, and video. You can combine all three into a gallery worthy of the most impressive WordPress site.
Fancy Gallery – WordPress plugin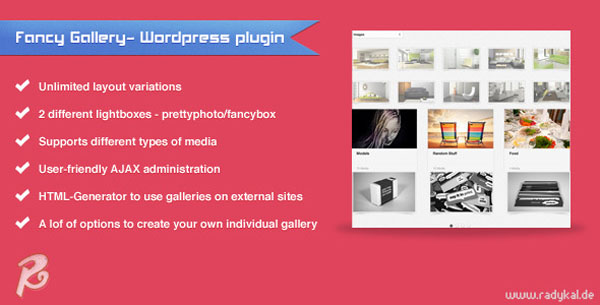 With an easy to understand AJAX administration panel and unlimited amounts of video in unlimited numbers of albums, it's easy to see why they call this plugin "Fancy." It can also be used for other media including images and websites.
Thumbnail Gallery (WordPress Plugin)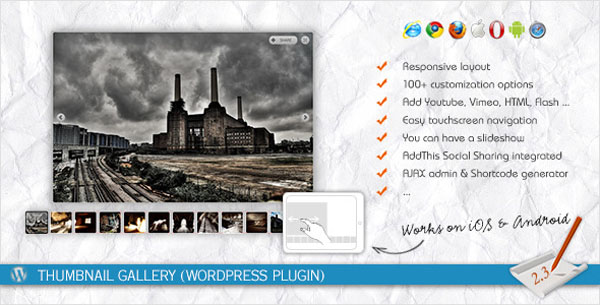 As the name implies, you can create a thumbnail gallery full of images and videos from YouTube and Vimeo. This particular gallery allows you to swipe through thumbnails to find the image or video you want to look at. You can also have a slideshow with this particular gallery.
PhotoMosaic for WordPress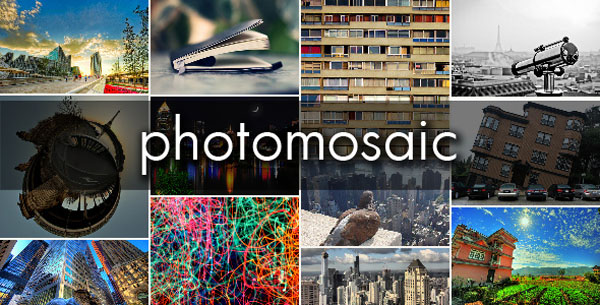 PhotoMosaic uses a shortcode to create lavish compilations of images. Design websites will find enormous usage with this plugin. The dynamic collages are great for showing off a wide range of your work, and the dimensions are customizable to make it truly a work of internet art.
Justified Image Grid – Premium WordPress Gallery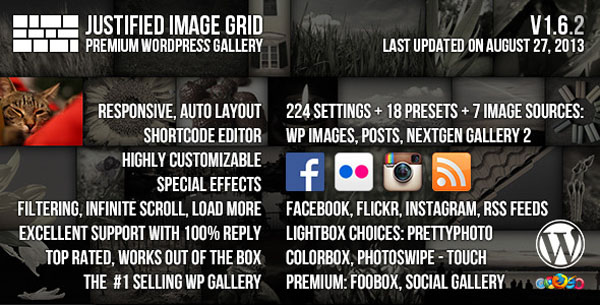 This plugin essentially puts your images into a grid and allows them to be highlighted individually as the mouse passes over. There are many different options for sizing and resizing and the amount of pictures you can fit in a single gallery is almost astronomical. You can also connect the gallery to your Flickr stream or your Facebook account to carry over pictures from those services.
Wall/Grid Gallery (WordPress Plugin)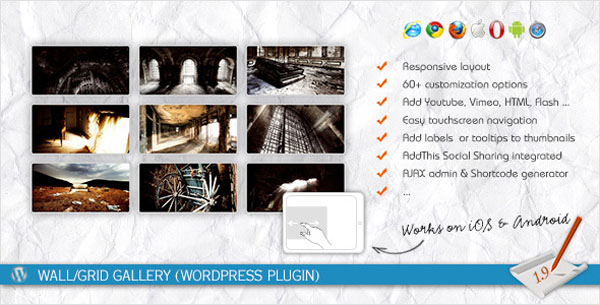 This plugin gives you the option to place your photos, videos, and other media in a convenient grid form. You can customize the size of the rows and columns, and the gallery is optimized for both iOS and Android mobile devices.
Premium Gallery Manager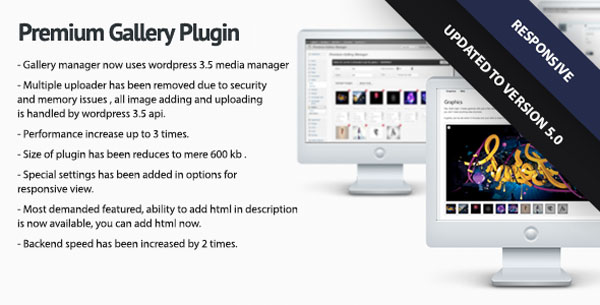 This plugin provides you with a sleekly-designed gallery used for hosting your images in an elegant fashion. It only has a 600 KB file size and still manages to have a simple backend interface and a high-quality functionality that any website can benefit from.
Thumbnail Gallery (WP NextGEN Gallery Template)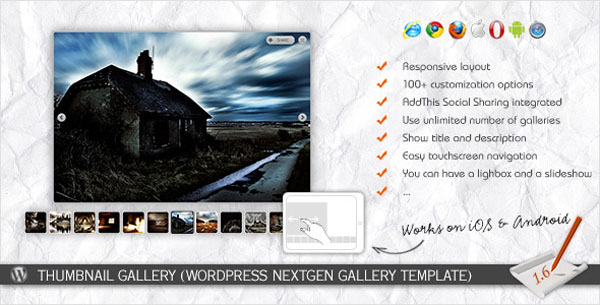 With this thumbnail gallery, you can scroll through a variety of different media. You can even use it to generate images and videos at random. Code writers will be able to add HTML and Flash content to the thumbnail gallery.
uSquare – Universal responsive grid for WordPress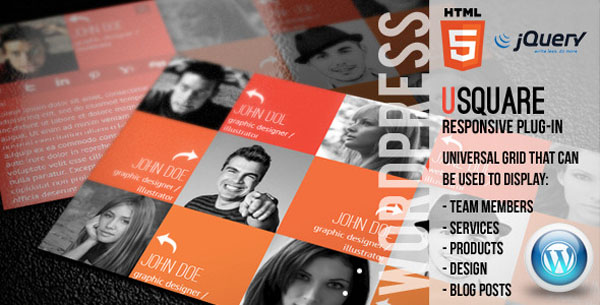 This grid-based gallery plugin combines images and text to create a unique way to list a variety of different things. Many businesses might use this to display team members or products. It's designed almost like a checkerboard where every other square is an image. An adjacent square will point out exactly what the image means in a fun and interesting way.
Social Gallery WordPress Photo Viewer Plugin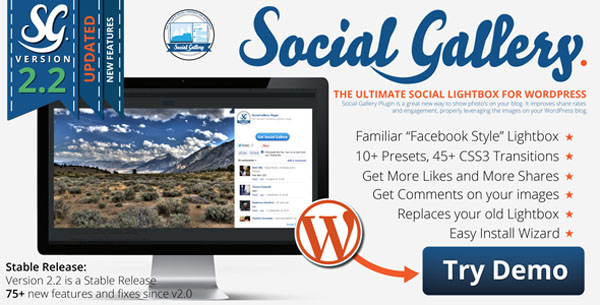 This gallery takes social media and images to the next level. Your images will be placed in a lightbox wherein they will be viewed, liked, commented on, and shared with all your favorite social networks like Facebook, Twitter, Google+, and more.
TS Display – Portfolio and Gallery Plugin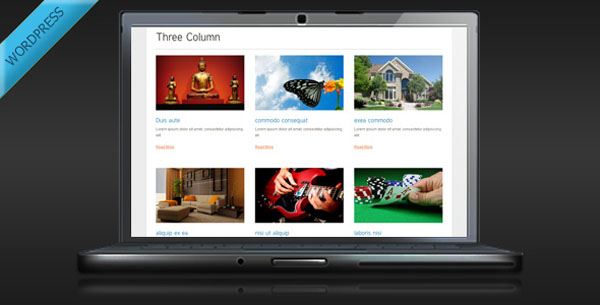 This plugin has a flexible layout and is used for displaying both portfolio components and images. There are, in fact, many different layouts that provide you with a small image with added text for context.
Video Player WordPress Plugin – YouTube/FLV/H264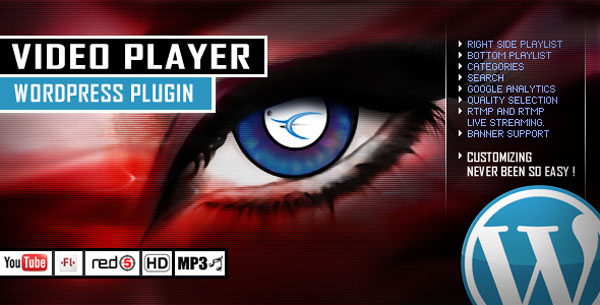 This video gallery provides you with all kinds of different file types when it comes to video sharing. Virtually anything that is based off of Flash can be used with this gallery. It can also host live streaming content and MP3s.
CCGallery WP – Multimedia Gallery WordPress Plugin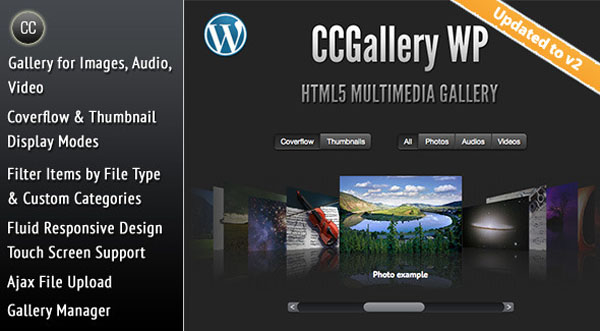 This multimedia gallery combines all of your favorite things in one package. There are two different design options, two different themes, and compatibility with video, audio, and image files. Everything is delivered in an HTML5 format ensuring the highest quality and ease of use.
WordPress Media Gallery – Ken Burns Effect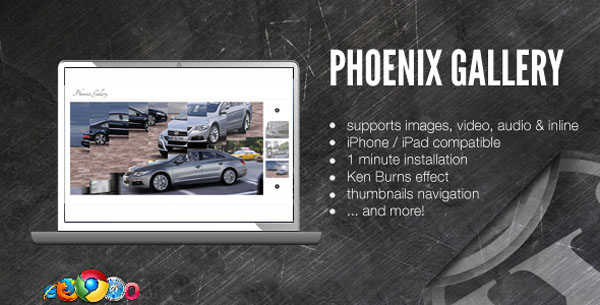 This plugin works almost as a catch-all device. In addition to being a gallery, it can also act as a banner, slider, and rotator. It utilizes the Ken Burns zoom effect for dynamic image content.
Global Gallery – WordPress Responsive Gallery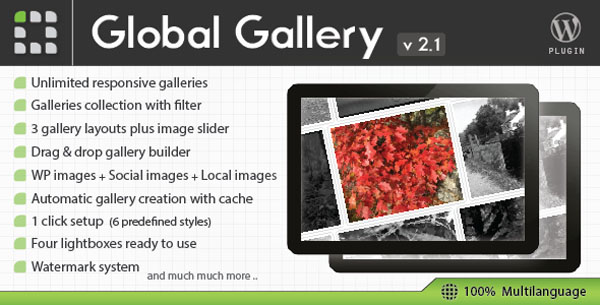 This gallery plugin allows you to customize your image gallery to meet size requirements. It's built in a grid-like system where the photos are displayed almost as a collage. The plugin is ready to cull images from different services like Instagram, Flickr, Pinterest, and more.
Complete Gallery Manager for WordPress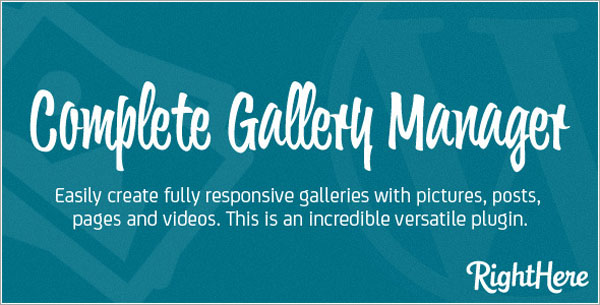 This gallery manager offers versatility like no other. It offers plenty of different options to display your content in large quantities. You can add images, videos, pages, and posts to your gallery to make it the most extensive and intuitive that it can be.
Wall/Grid Gallery (WP NextGEN Gallery Template)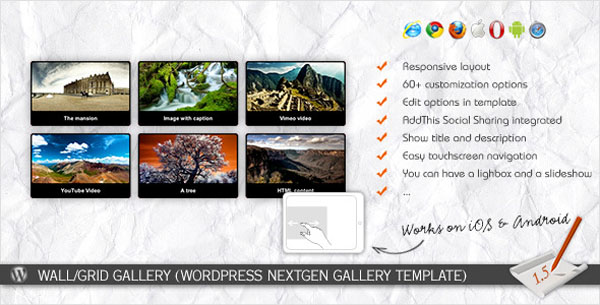 This grid-based gallery template comes complete with over 60 different customization options. It is resizable, YouTube and Vimeo ready, and easily navigable. It's also ready to be used on many mobile devices.
DZS jQuery Flipbook – WordPress plugin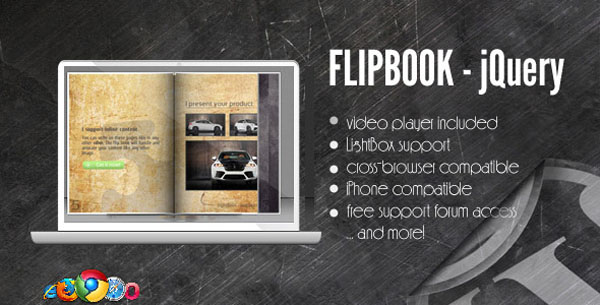 This flipbook gives you all the power of a media gallery in the quaint form of a digital book. You can literally flip through the pages of this book to see images, videos, and texts. In fact, it's easy to embed videos from YouTube with this service. It doesn't get any more fun than a flipbook.
Video and image galleries are vital to any business that wants to jettison themselves into the 21st century. They are generally easy to include on your WordPress site and will be easy to customize and resize. Galleries are an important part of today's online world and it might be time to look into one of these plugins for your WordPress site.