WordPress is worlds most popular CMS. Currently WordPress powers 20% websites on the planet it means every 5th websites is using WordPress as their core platform. WordPress started as a blogging tool to fulfill the needs of a blogging platform & now it has become worlds most popular CMS. You can use it freely and its up to you how you create powerful and great websites with WordPress.
You can create apps with WordPress. Over 27000+ plugs and 2000+ themes are available at WordPress.org for download. That makes WordPress very powerful and popular. With free and premium plugins even beginners user can create different type of websites with in minutes/hours easily.
People from WordPress also knows that, WordPress is much more than a blogging platform, here what Matt Mullenweg & lance Willett says about WordPress:
"66% of [Users] said they use WordPress as a CMS and not as a blog."

– Matt Mullenweg, co-founder of WordPress / State of The Word 2012
"Recently, it's become even more evident that WordPress is heavily used as a content management system (CMS) with many more sites now using it to organize any kind of content rather than purely as a blog."

– Lance Willett, creator of the "Twenty Twelve" default WordPress theme – which changes the default WordPress install home page for the first time to a static website home page, not a blog.
You can start a basic blog, create a social networking website with buddypress, create a online discussion forum or create an eCommerce websites, it's not a problem. when WordPress has all these and so many features and benefits why you need to say Good bye WordPress. Because WordPress is no more a blogging tool and it has so many features that's not necessary for a basic blogging tool.
Try Ghost: Just a Blogging Platform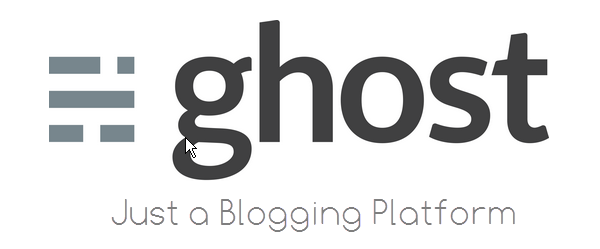 Now we have  a great new blogging platform. Ghost: just a blogging platform. That is simple in every way and focus on publishing. It was the idea of John O'Nolan he dream of a simple publishing platform and posted his idea and people on the internet supported his idea. His post created a buzz and  got quarter of a million page views and positive feedback. After 29 days on Kickstarter ghost raised $300,000. That was a clear sign of how eager were people for a simple publishing platform. Envato and other many companies were partnered to back Ghost. Now Ghost is available to the public. If you want to try Ghost go visit Ghost website, sign up for an account, and download the latest version.
Ghost Features
Revolutionary Dashboard
Dashboard is where you manage your site and create great content. Ghost promise for simple and useful Dashboard that you would like to use. You will be able to see traffic details. top content, social media stats.  Dashboard will be customizable with drag & drop widgets.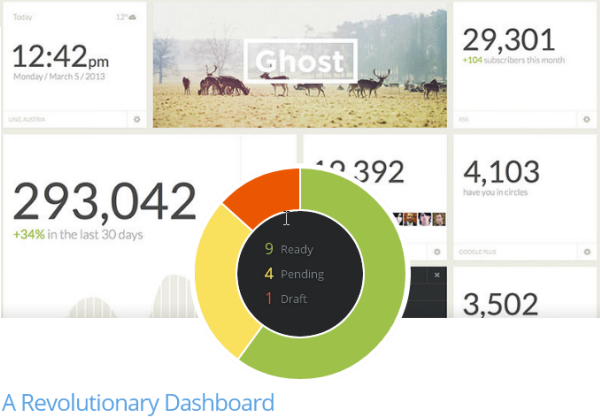 Currently Ghost has a very simple Dashboard, which offers Content, New Post and Settings screen. in content screen you can see all post with live preview. Here you can see Content screen in dashboard.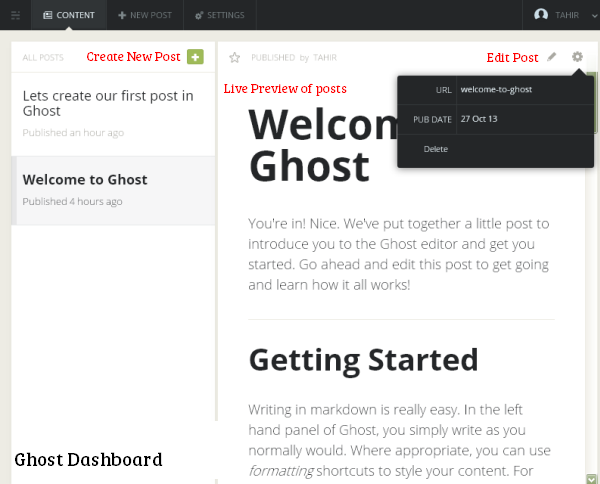 Here is preview of Settings screen, You can change blog name, add description, add blog cover and see how many post do you want to show on your home page.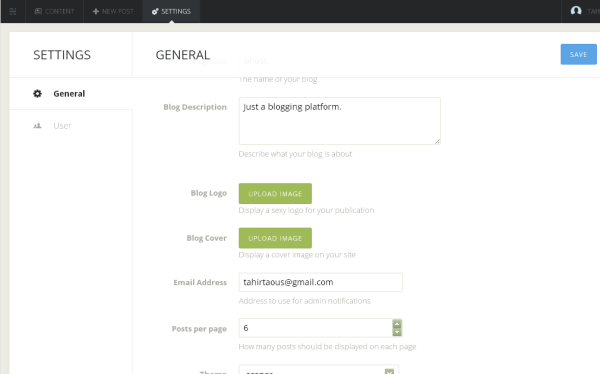 Split-View writing Screen
Ghost is made for publishing. So writing screen  must be  great & Ghost has a simple and great writing screen . Ghost uses split view feature. With Ghost you can start writing on the left in Markdown and  see live updating preview of your post on right side. Adding images to your post is very simple with drag & drop feature.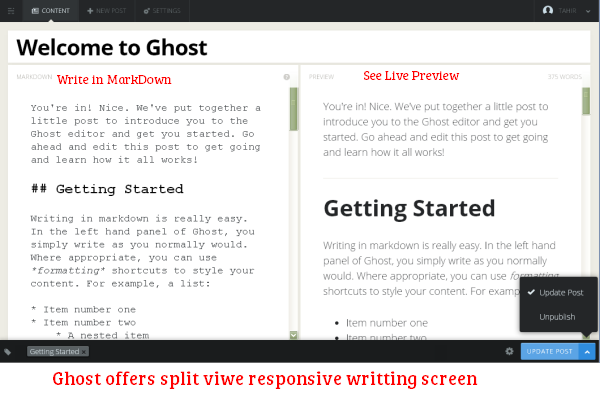 Fully responsive
Ghost is a fully responsive blogging platform. It works on every device, It means you can use it on PC, tablet or your iPhone or Android easily. Ghost has a fully responsive front end and dashboard.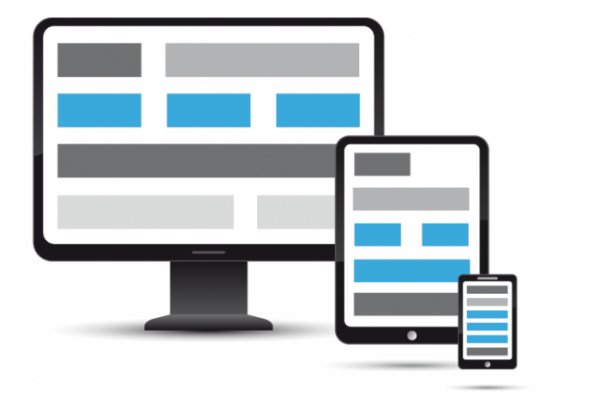 Themes
Design is important for any websites & Ghost team knows that. You can create your own themes. Ghost themes are intended to be simple to build and maintain. Ghost uses Handlebars  that is a templating language. If you want to create your own themes for Ghost don't forget to read the handlebars documentation.
No integrated Commenting system
Ghost does not have integrated commenting system. Ghost plans to have very simple integration with companies who build sophisticated commenting platforms for a living. Like Disqus. I thinks this is another cool idea. You won't have to worry about spam comments (I hate spam comments in WordPress). Many popular websites started using Disqus. Such as Tuts Plus Network.
Plugins
Every blogging site has some must have plugins for features like SEO, Related Posts, Google Analytics, Twitter/Facebook/Instagram integration, Inline Spelling and Grammar checks, Contact Forms, Numbered Pagination, Backups. Ghost will add some most important features directly to core. Ghost has plans to  treat third party developers as their partners.
How to install Ghost?
Ghost is Node.Js based blogging platform. So you won't be able to run on your shared hosting. There is a good news you ghost team was working with many companies to make Ghost up and running as easy as possible. So now here are some option to run your Ghost blog.
HostGhost.io – Ghost Blog Platform Hosting
Ghost team has set up a hosted platform for Ghost which allows you to set up and run a Ghost blog with just a couple of clicks of your mouse. You will be able to use a custom domain name for your Ghost blog at hostghost.io
Auto installers for Ghost
Auto installers are very popular now a days. Auto installers make it very simple & easy to install popular CMS's. With auto installers you can run popular CMS's on your local PC & on your live web servers. Some companies offers auto installer for Ghost.
Bitnami is well known for its auto installers & yes bitnami has an auto installer for ghost too. You can download Bitnami Ghost installer for Windows, OS X & Linux. Bitnami also offers Ghost for Virtual Machine .
You can also Run your own Ghost server in the cloud with bitnami's hosting platform or using a pre-built image for Amazon, Azure and other providers.
Digital Ocean offers Ghost Droplet, which allows you to deploy a live Ghost blog quickly . Check out the Digital Ocean Droplet to get started.
Rackspace one of the largest enterprise hosting company, has a Image which automatically configures and deploys a new Ghost install. you can download and install Ghost manually on your MAC, PC or live server.  Visit Rackspace Ghost Deployment to get started.
you can also download and install Ghost manually in order to use it. Ghost is world's first blogging platform, that is built with  javascript (Node.js). Manual installation is a little bit complicated & may be confusing for beginners. In order to install Ghost locally you will have to install Node.js on your Mac or Windows.
You can read the installation doc to learn how you can install Ghost on your Mac, Windows, Linux or Web server.
So what do you think about the future of this new blogging platform. share your views in comments.