We find ourselves more often than not in a situation where we create wireframes or prototypes and need some placeholders for free social media icons, or we simply need some other type of icons for any other graphical tasks. While it is also easy enough to find new ones on Google, we thought of putting together a showcase for you with the ones we believe are best.
This way you can just bookmark this article and always come back to it when you are in need of these social media icons.
Free Social Media Icons
Free Flat Social Media Icons (PNG & PSD)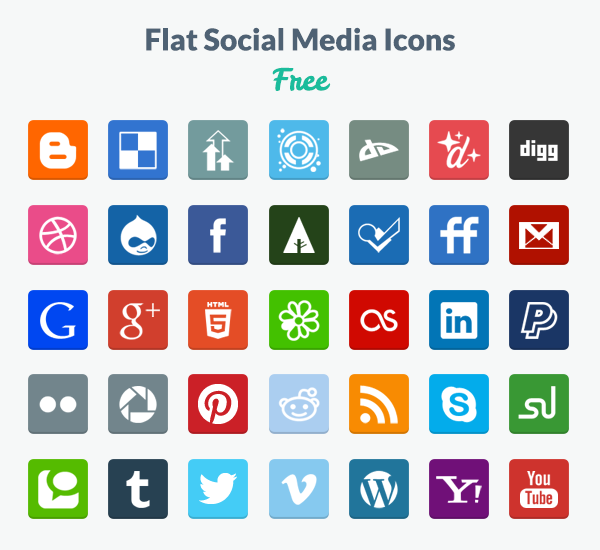 Flat Social Media Icons is a collection of beautiful icons developed in the flat style.
Retro Social Icons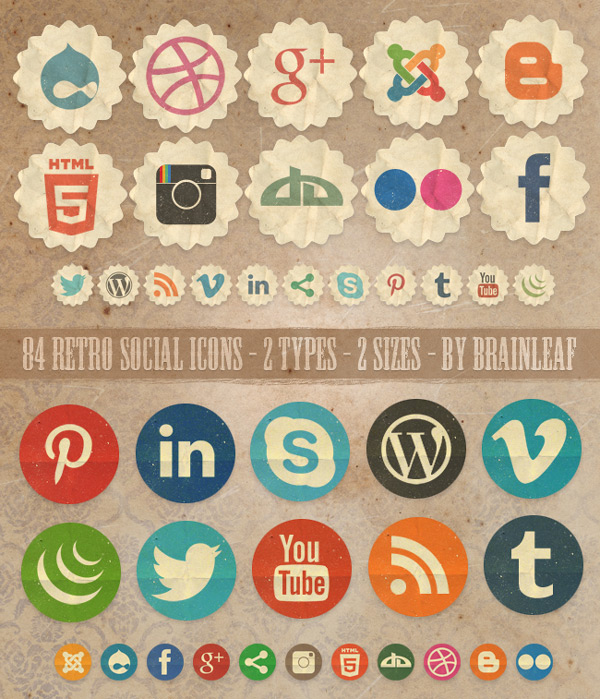 This set is made out of retro icons, both on a round background and on a starred round one. The icons include Facebook, Drupal, deviantART, Instagram, Blogspot, WordPress and Skype between others and looks like a great set to have in case you are in need of such icons. There are in total more than 80 icons in two different sizes, each coming in two different styles.
Round Button Icons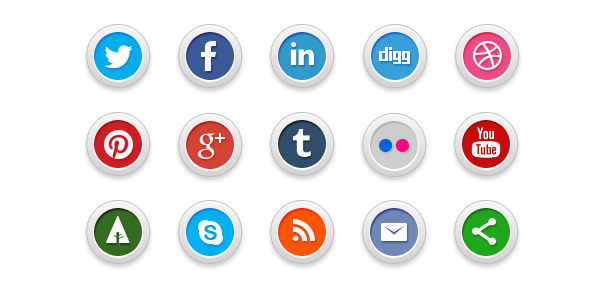 This set is composed of 15 free social media icons designed in a modern style. The set comes in PSD, as well as in transparent PNG format, and in a 72×72 pixels size, so although they are not too big, they should be useful for websites and wireframes.
Social Media Icon Set (CSS3 & PNG)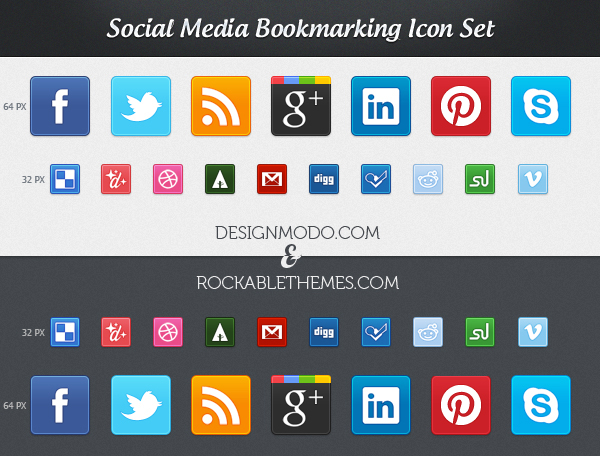 Sociality is the world's first full pack of Social Media Icons available in CSS3. This set contains 34 of the most popular social network and bookmarking site icons.
IC Minimal Icon Set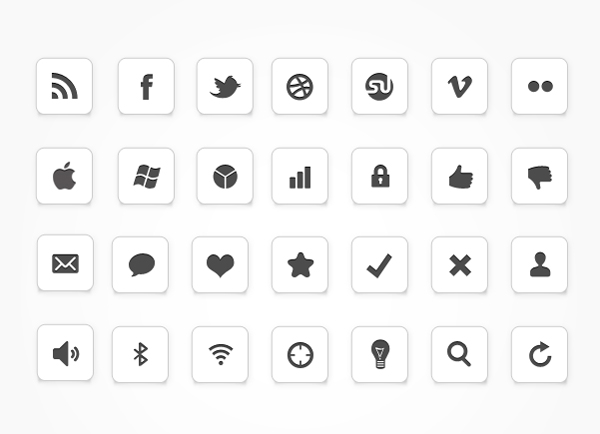 This set also comes with the original PSD file included and is comprised of 28 icons in total, all in PNG and JPG, with a size of 64×64 pixels. Also, this one is free to use as well, however there are some restrictions about how the set is used – make sure you read it before you make use of any of these icons for your commercial projects.
3D Icon Set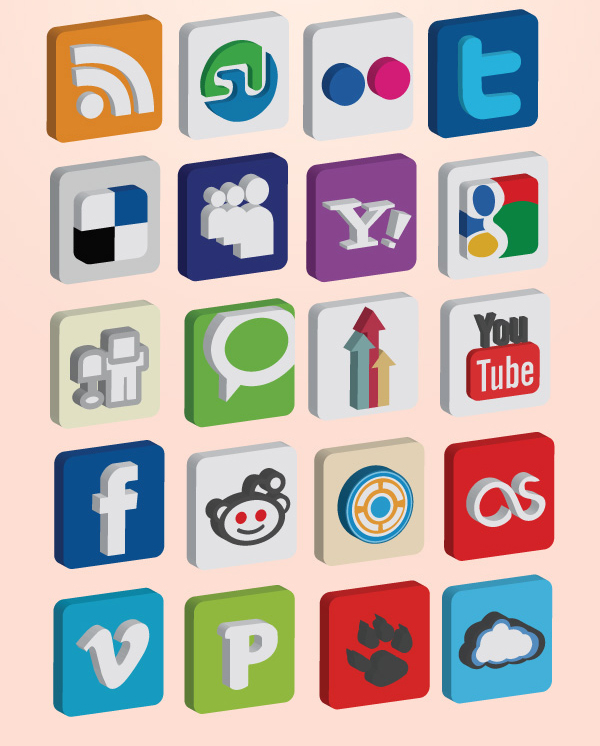 This set is made of 20 social media icons in a 3D format. You will find in this set the most popular social media icons, both old and new. All icons have a clean, sleek look and the package can be used without rights attribution.
3D Statuette Set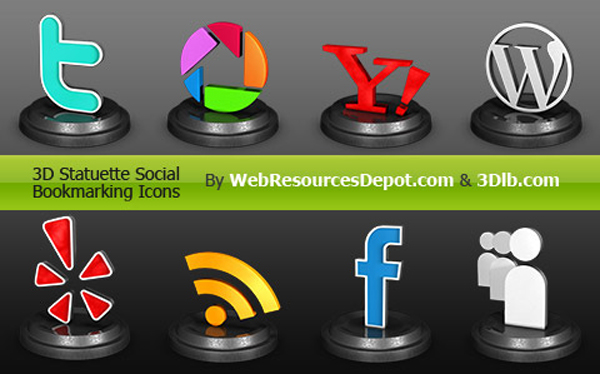 This one also comes in 3D format, but what I like about it is the huge size it comes in. All the icons are 435 x 424 pixels, which is quite a lot compared to how big the standard size is. No backlinks are required for this one either, so it can be used freely both for personal and commercial purposes, and you will also find some of the popular social media in between the icons zipped here.
Burnt Wood Icons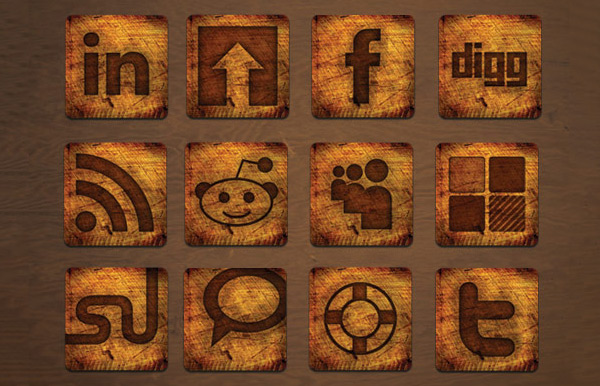 This set is also quite unique, made out of burnt wood icons. The set contains 12 different icons of 420 x 420 px, coming in transparent PNG format. Besides the fact that you will find most of the popular social media icons in this set, it is also free to use for everybody, so give it a shot if you want a rustic experience for your website.
Dark Denim Icons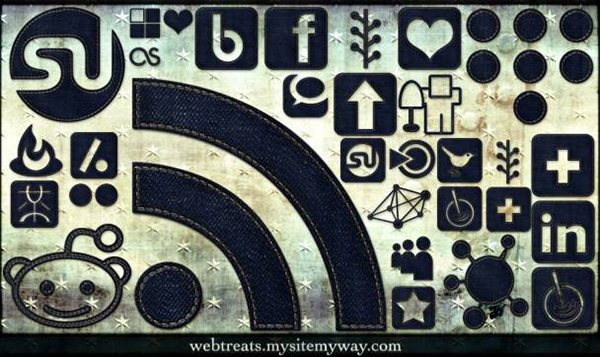 This set is made out of high-resolution icons. I like the fact that even if it comes in PNG, it comes in a huge resolution (600 x 600 px) and therefore can be sized down after needs. There are more than a hundred icons in the set, so you will probably be able to find the one you need as well.
Elegant Themes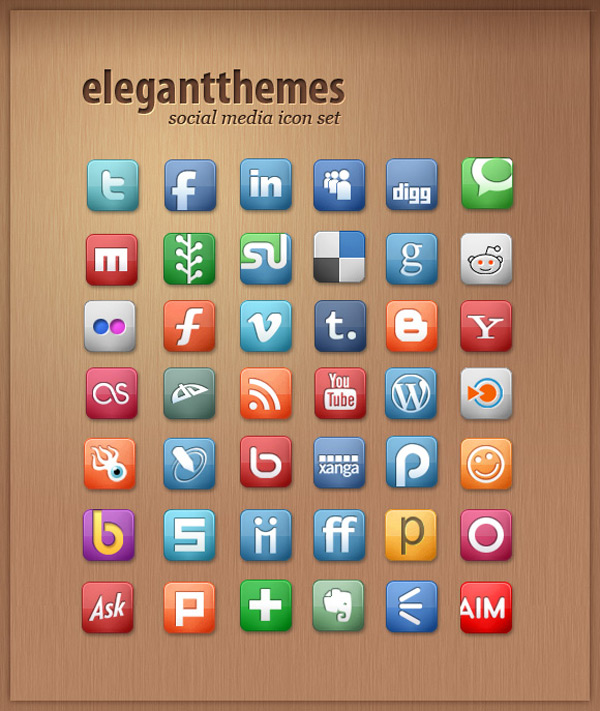 The guys from Elegant Themes have always been some of my favourite WordPress theme designers and I have bought from theme many times before. Their work is high quality. And this icon pack seems to be high quality as well. It includes 42 icons both in PNG and in PSD, so you can also customize the icons easily. The good part about this pack is that the icons will easily fit in with their sleek, modern themes.
Grunge Peeling Sticker Set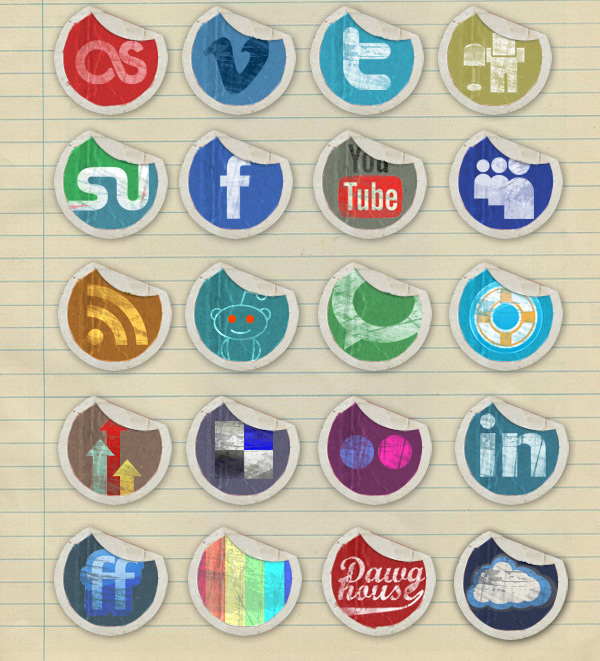 This set is comprised of 20 grunge peeling sticker icons and each icon comes in PNG format and in a standard resolution of 128 by 128 pixels. Moreover, the source files in PSD format are included as well, so customization is possible.
Hand drawn icon set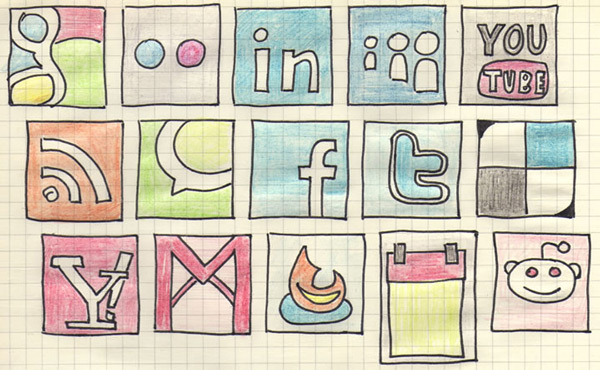 There is a total of 15 icons in this pack and it can be used by anyone both for personal and commercial projects. Google, Flickr, LinkedIn YouTube and Facebook icons are included among some other big social media examples.
Matte White Square icons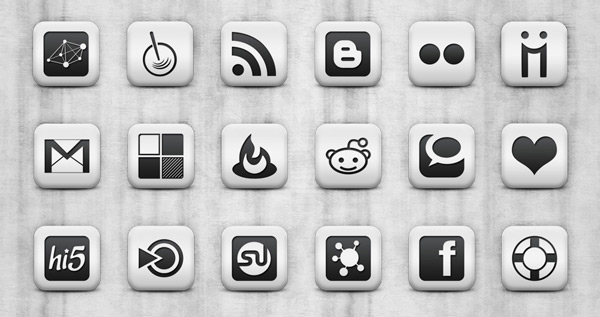 I have chosen this one because it is made of a big number of icons and the style of these icons is minimalistic and fits pretty much everywhere. Its neutral color is also an advantage, because unlike many other examples, it doesn't only fit with a specific kind of color palette. The set is free and can be used as you want to.
Old Bottle Crowns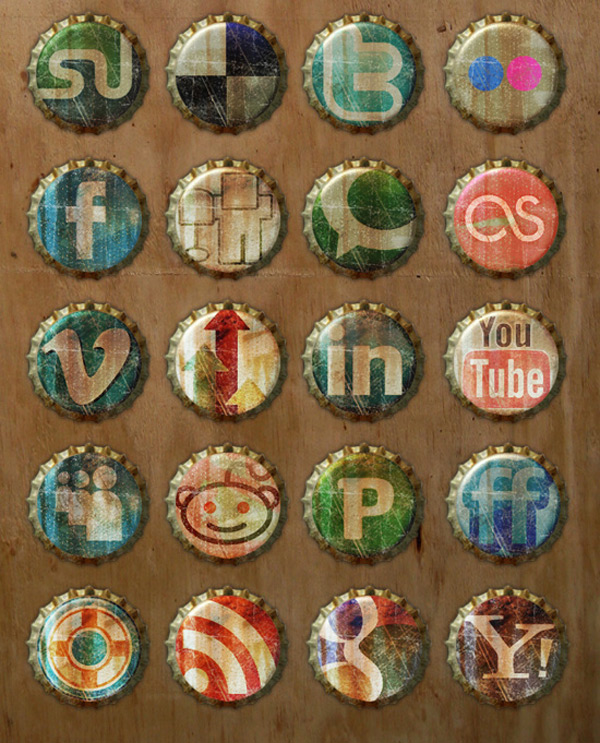 This set is not as big as the last one and it only contains 20 icons, but if you own a restaurant or a bar and you have a website, this social media icon pack is definitely the right one for you. I think these icons can also be used for other purposes, but this should entirely be up to you.
Page peel icon set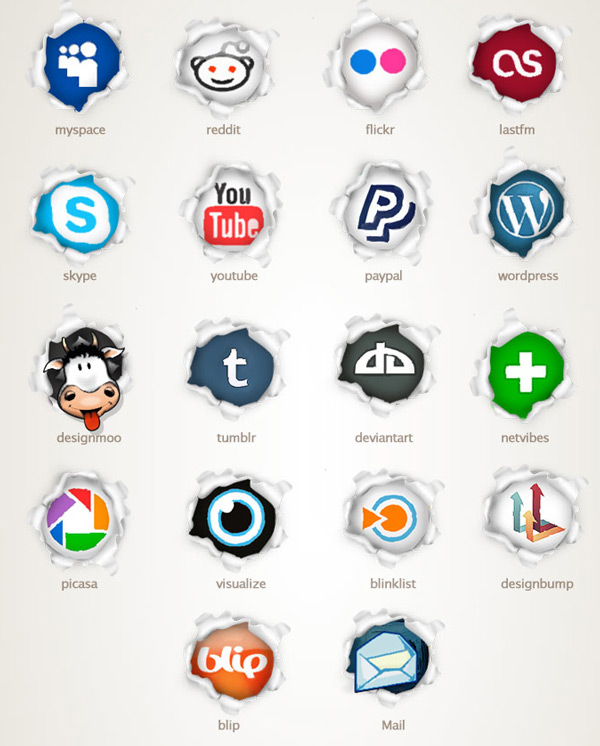 This is a rebound of another page peel icon set, but this one seems to be better than the first edition. The set is released in transparent PNGs and the icons are available in two dimensions, 128 x 128 and 64 x 64 pixels. The set is also free to use.
Simple White Icon set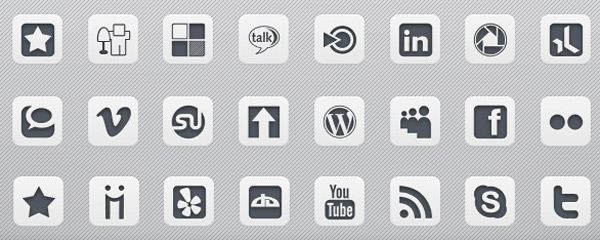 Let's say I kept the best for the last. If you thought some of the ones above are impressive, then wait to hear how many icons this set has. Regardless of what social media profile you have, there is definitely an icon for it here. The set comes with 1540 icons and this is a huge amount of work. This one is simply one of my favorites.
With this last amazing example we end today's showcasing. I hope you think the sets presented above are cool and that you look forward to using them. I definitely look forward to hear about your opinion on them here in the comment section.