Flat design is the hottest trend of the year. We are in the last trimester and it seems that nothing can change this situation. The main issue that concerns the entire web design community is whether flat design templates is a passing trend or something that will remain for many years. Regarding this aspect, the web designers' opinions are diversified: some believe that flat will resist just few months, while others state that flat will be staying here for much time. Unfortunately, it is impossible to offer a precise answer to this dilemma since nobody can predict how the future will look like. Instead, there is one thing we can be entirely sure of: a good website remains good regardless of the adopted style.
On the other hand, whatever flat is passing or not, it is beautiful. The beauty of pure colors and the nice and clean typography was ignored in the last period, therefore flatness isn't something forced, it's a natural reaction. Besides that, the skeuomorphic approach became boring because way too many websites were built using tons of effects, shadows, 3d effects and gradients. In this context, it's obvious that Internet users and web designers came back to simplicity. In conclusion, flat design could be superficially described as a combination of good typography and beautiful colors.
If you are still in doubt, then the next free and premium flat website templates will surely convince you that flatness has its special beauty!
Flat Design Website Templates
Startup Website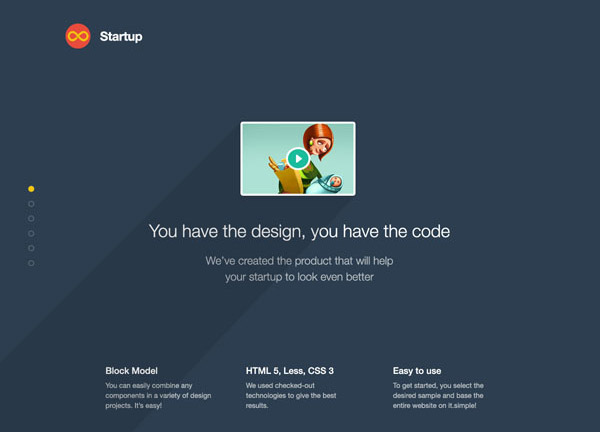 Deal website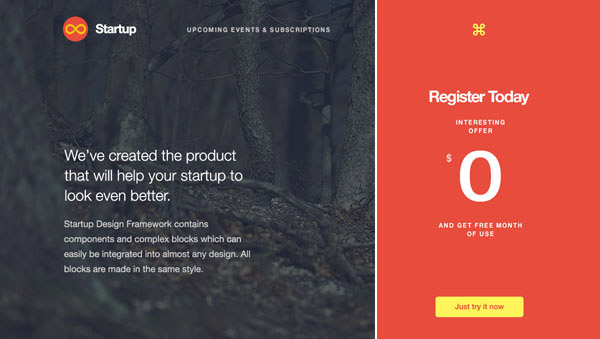 Video website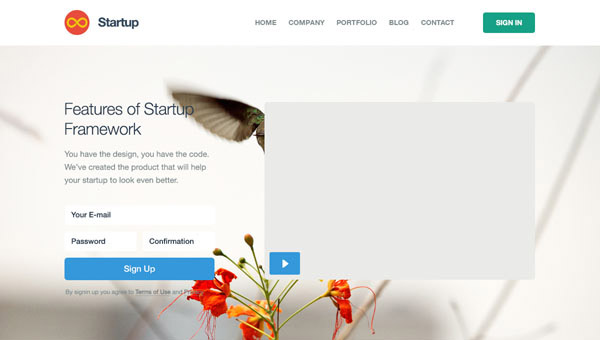 Apollo – Responsive Animated Template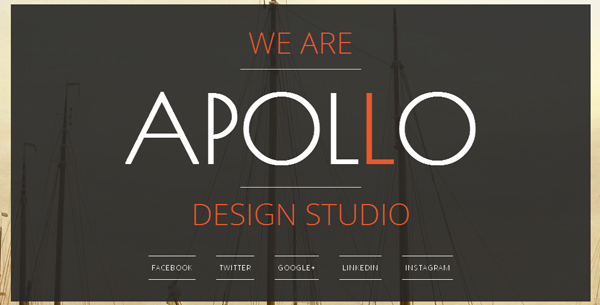 Simultaneously with the raise of flat design, the single page websites became a more used solution. The single page flat website is superb and it will surely impress even the more demanding ones. The images are wonderful and the design fully accomplishes its fundamental role: to let people enjoy the content. The grey is extensively used in order to let the visitors focus on the information they need- a very good approach for a template suitable for a web design agency.
Flat UI Template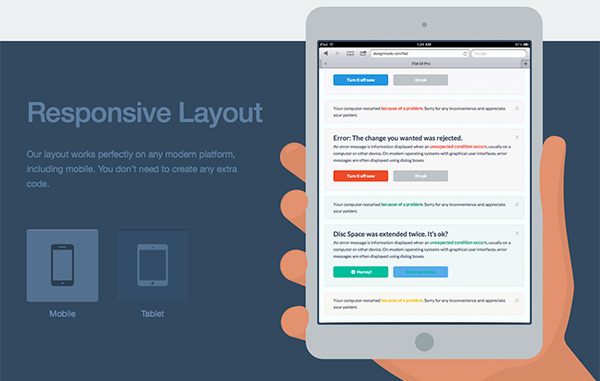 This layout works perfectly on any modern platform, including mobile. You don't need to create any extra code.
Flat Studio – Responsive One Page HTML Template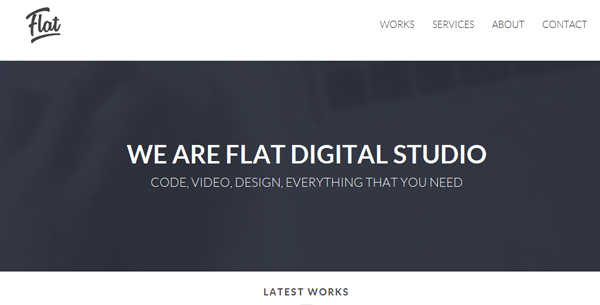 This is one of the "purest" flat website templates: with big and clean typography, simple elements, and plain colors. Also one should take into consideration the extensive use of tiles and the focus on the content. So, if you are searching for a flat website, then this template is definitely for you!
Z Pixel – Creative Portfolio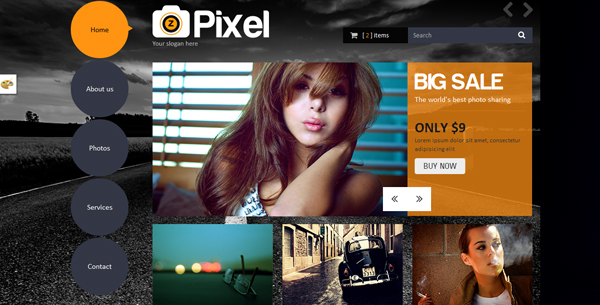 Usually, the colors used in flat websites are suitable for vintage projects. This website is an interesting exception and it proves that flat may work for modern and dynamic online presences. Clearly, the strongest point is the originality of the layout!
Appizz – Mobile App Showcase HTML Template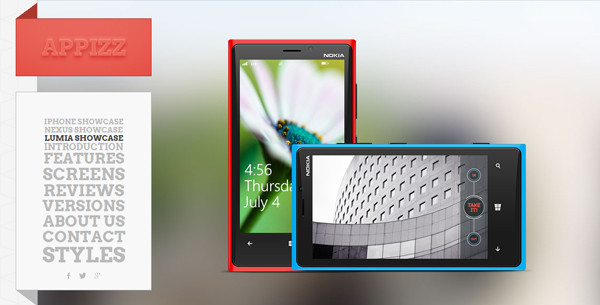 It's a superb technology inspired website template. This doesn't have any impressive or eye-catching elements but everything expresses the high quality work of the designer. It's a website which is above the standards and it surely deserves your appreciation.
Paris – Responsive HTML5 Template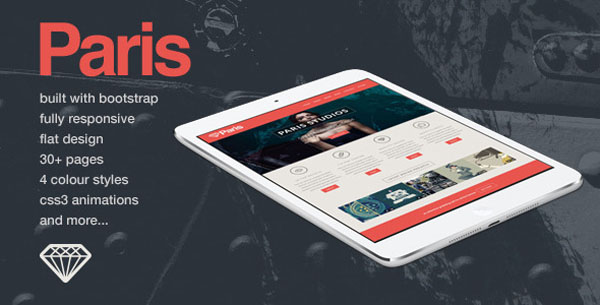 Paris is another template suitable for portfolios. It has four variants- depending on the coloristic preferences of each designer. Anyway, the template is awesome and used as a portfolio, it will undoubtedly attract many potential clients.
Flatnica – Ultimate Flat Template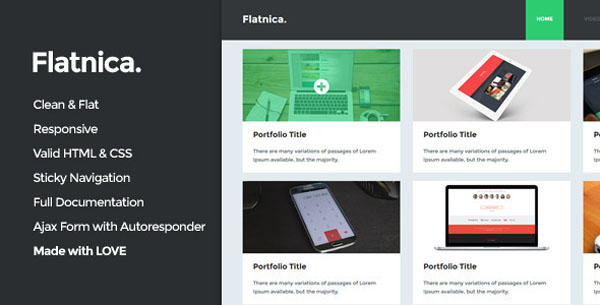 The creator of this template fell in love with good design and powerful contrasts.  Flatnica is a high quality template and it's an example of what contrast power means. The vivid green in association with black and white creates a very powerful contrast. Another more subtle contrast is realized by the black and white images of the offices and the colorful screenshots of the previously accomplished projects.
Square UI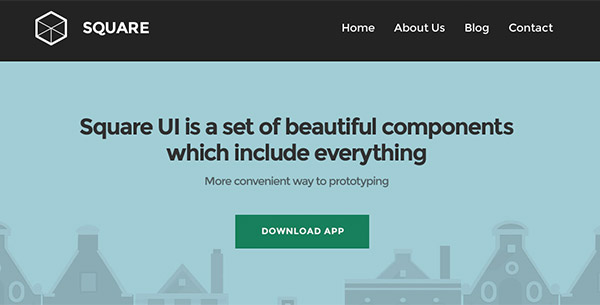 Square UI is a well-designed user interface pack ready for every type of projects, from complex websites to mobile apps. It's not a conventional website template but its many items are perfectly suitable to create a wonderful working website. Each piece is carefully crafted and enhancing a website using this pack is a real pleasure. Square UI is a must for those who love flat design!
Flat UI Pro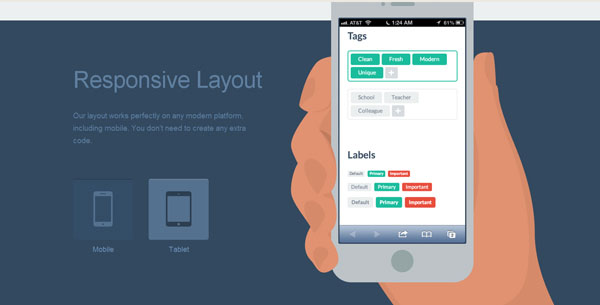 If you are still in doubt, as far as Square UI is concerned, then Flat will surely change your mind. This pack contains all the necessary items to create a wonderful flat website. The developers of Flat also offered the psd files of the items. So, no designer should miss such offers especially because the price is extremely low compared to the possibilities of the kit.
Hypertext – Flat Portfolio HTML Template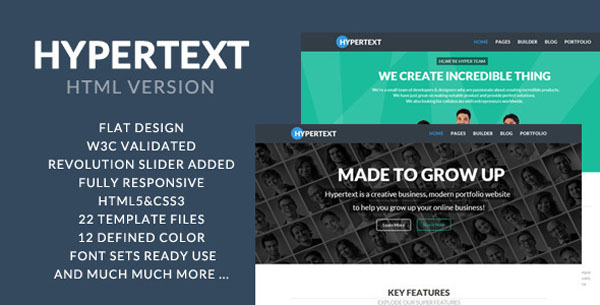 If you don't like the "exotic" color combinations of vivid green and black, then you should mix the vivid green with white since it is a more common and very pleasant solution. In addition to some grey and blue shades, it is a very good color combination. This template is an example of this cool solution.
18augst Flat and Responsive Portfolio Gallery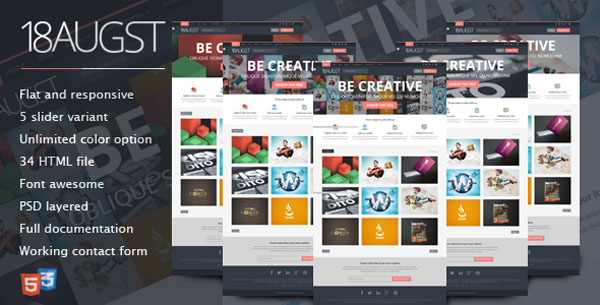 Another particularity of flat design is the use in the header or in the upper part of the fold of an array of tiles. 18augst is a wonderful template and it impresses due to its huge array of tiles (but not only). This feature makes it a good solution for photographer's portfolios. The template looks fresh, modern and dynamic, so you would better bookmark it!
FlipCard – Responsive One-page Template
Flip card is a very original flat website. In order to combat any similitudes with other flat websites, the creator of this template uses an atypical background. This idea is a risky one, but the final result is pretty awesome. Flip card is in fact an online resume and it will surely impress the viewers.
Candy – Flat Onepage Responsive HTML5 Template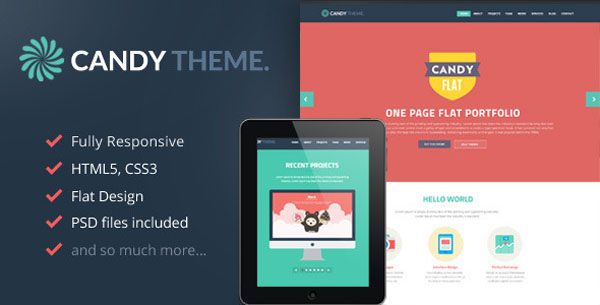 Candy theme isn't a name randomly selected. This website template is really sweet. The huge and hopeful images have the role to make people forget about their problems and smile. The layout emanates joy and happiness. This website is another typical example of a good-looking flat website.
CloudServer – One Page Responsive Hosting Template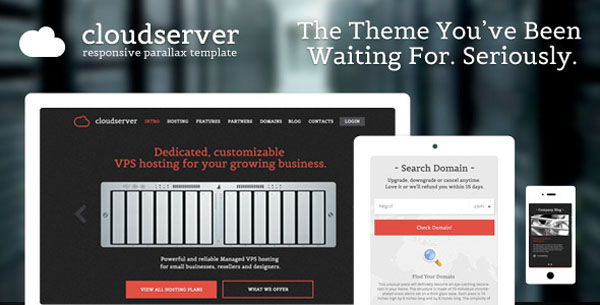 This is a great single page website template. It was named Cloudserver and, as the name itself is saying, it is designated for hosting services. The page transitions are the strongest point of it- very creative and it's impossible not to impress the users. Also, the entire design is wonderful and it deserves being added in this list.
All Around – Responsive Rounded HTML5/CSS3 Theme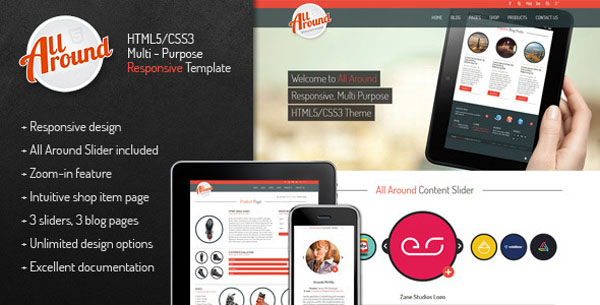 All around is a HTML5 responsive website template and it has as positive aspects the great possibilities of enhancing it and the professional looking design. The creator of the template used intensively the circle shapes. In addition to white background and good typography, the template looks modern and fresh, being suitable for multiple purposes.
Unorium – One Page Parallax HTML Theme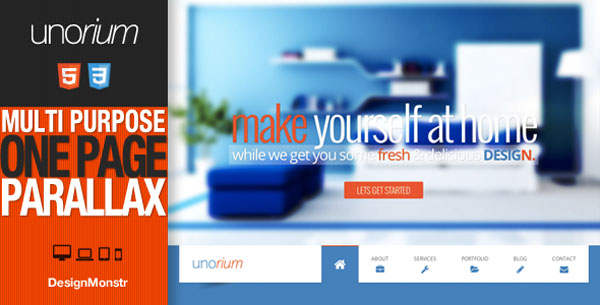 It's a fresh uploaded template, but it will surely be highly appreciated by the buyers. Unorium is a responsive & retina display supported website template and everything about this is at the superlative. The template is the result of a very creative and talented designer, so kudos to him.
Suganwe – Responsive One Page Template HTML5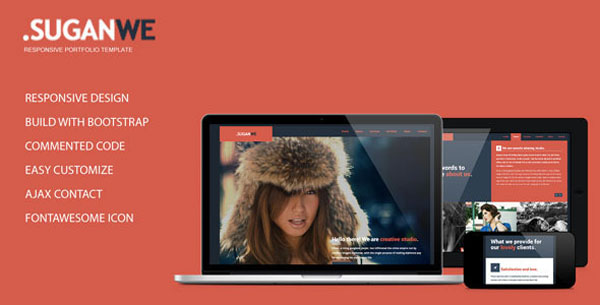 This is another website template that is simply awesome. There are high-quality images, the selection of fonts is wisely done and the colors make the navigation enjoyable. Once again, it's proved that it doesn't matter if a website is flat or not, what really matters is the quality of the work done by the designer.
RENOVA – Unique One Page Theme – Responsive HTML5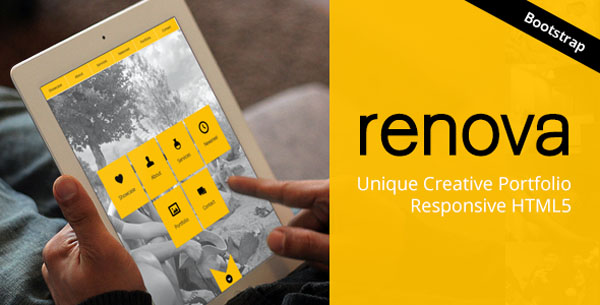 Renova is an original responsive template. The main colors used are black and yellow- not specific solutions to flat design, but anyway, the layout is really beautiful. It's a single page website and in order to balance the high contrast of black-yellow association, many images are black and white. Another plus for this template is the unusual position of the navigational menu- in the middle of the page.
Grid – Responsive Portfolio Retina Template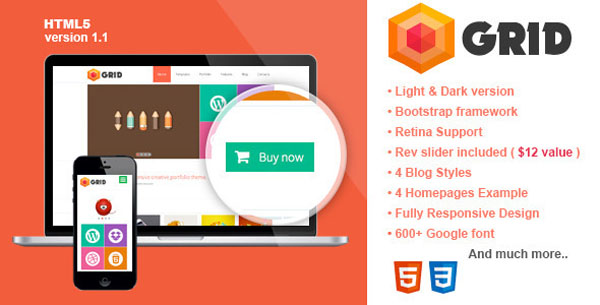 Grid is a template having two versions: dark and light and both of them are wonderful. It's highly customizable, responsive and retina display supported, therefore it works regardless of the device used to access it. It may be used for blogging, portfolio and business portal.
Arkos – Flat and responsive portfolio gallery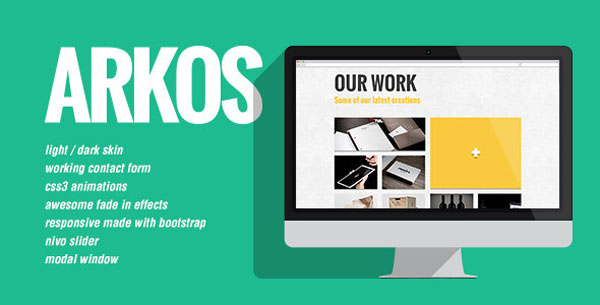 Some designers criticized the flat design and stated that it's suitable for vintage solutions only, but this website template is a strong argument against this view. Arkos is a flat website that impresses due to the modernism approach and there is no doubt that everyone will appreciate it.
Adila: Multipurpose Business HTML Template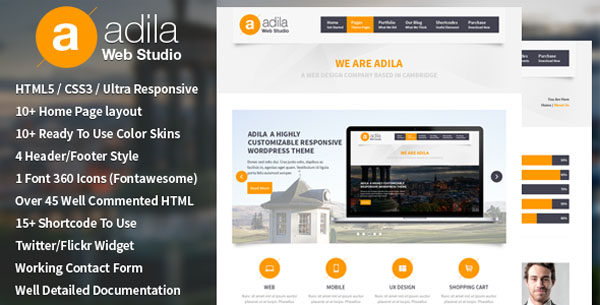 Adila is a complete website template: it has 10 ready to use color skins, 3 heading styles, 5 different sliders, working contact form and it's offered the well detailed documentation. Under these circumstances it is practically impossible not to be satisfied with it!
So, it doesn't really matter if this is a passing trend or not, flat design is beautiful and these websites definitely prove this statement. Enjoy all of them and don't forget to share this article with your friends!