If you are yet to invest in product feedback management software already, there are many benefits you are missing, especially when it comes to knowing what your customers want. There are product feedback management tools that are essential software for all types of businesses. If you want to bring your customers closer to your business, you need to invest in software that collects their responses and provides solutions. This way, you get to bring real-time solutions that answer the pressing needs of every customer. This is why you need Userwell.
Why You Need the Product Feedback Software By Userwell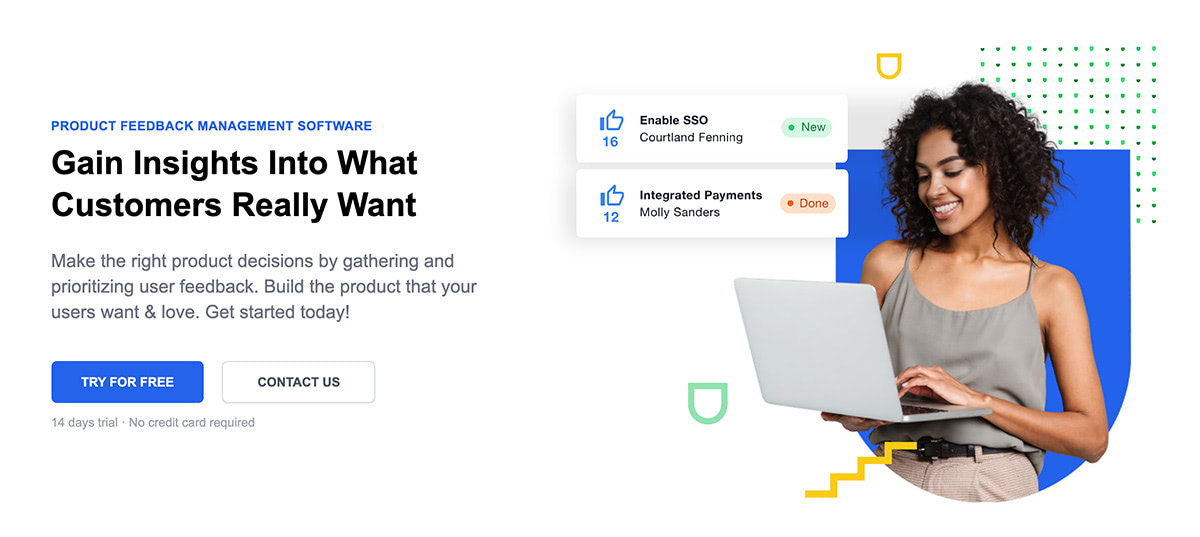 Using this software will help put your customers at the center stage of any decision-making concerning the products and services your business renders. You can always tell what each customer requires you to do for them, and by leveraging this product feedback software, you can introduce new products and services to help them. The benefit is that you get satisfied customers by providing improved products and driving more sales.
With this software, your business can evolve into a customer-driven enterprise that values opinions and feedback by simply asking them to participate in the program. Customers are always ready to give an honest opinion about your products and even offer some suggestions. With this information, you can develop a working product that will meet their needs.
Features
Reporting and Analytics
The Userwell software is designed to make it easy for your team to access real-time data gathered from your customer feedback to help improve your products and satisfy your customers. Your team can act on the product feedback, and the software also has an automatic feature that notifies customers that your team has received their feedback.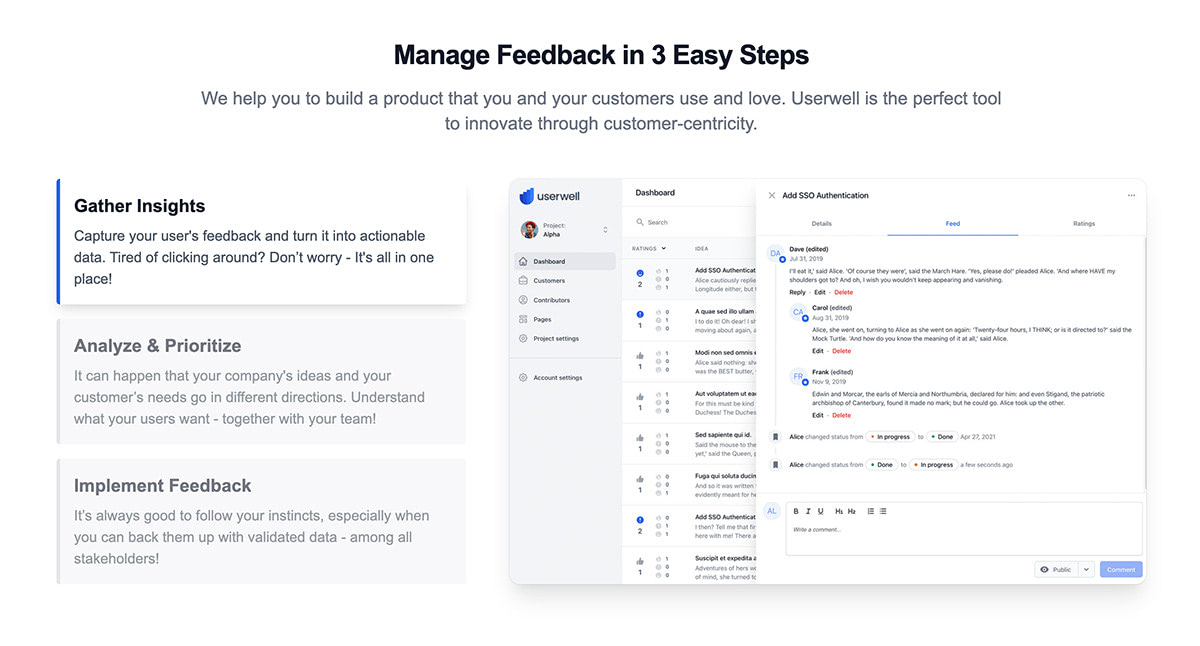 With the feedback collected online, you can organize raw data and other complex feedback processes from graphs and charts to draw out valuable information to help develop a new product. With information like this, you can stay ahead of the competition and boost your sales. You can get a quick glimpse of your data containing feedback and performance on your dashboard.
Product Research
If you have a new idea for a product, you can validate it before fully investing in the new product using the feedback provided previously from customers. You can use this data to add new features and improve the product. This will ensure the success of your product and also show customers that you put them first.
Product Development
The software is valuable for your business and will help you develop a new product to keep your customers satisfied. You can keep track of your new products and follow up on the development stages or milestones using this software. This will help in the progress of the new product and also give room to make changes where necessary.
Product Testing
When you have a customer-driven product ready to be introduced into the market, it is important to find out what your customers think about it. The product feedback software will help collect data from beta testing activities. You will get qualitative and quantitative feedback on what the customers think of your product after testing. You can improve the product based on their input or launch your new product if they embrace it.
Product Launch and Improvement
Your product feedback software will also be useful after a new product has been launched. You can take advantage of the feedback or responses received to improve on this new product. The software allows you to capture this feedback, and also it will help create insight to help you better satisfy your customers.
Unique Capabilities of the Userwell Feedback Software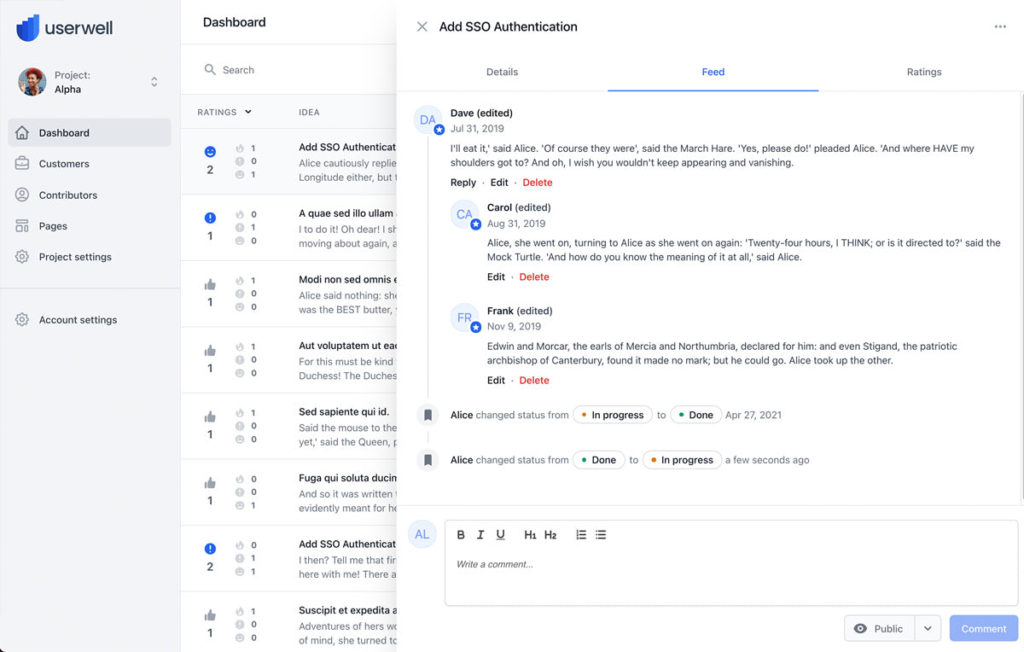 Improved Performance:
With the feedback received, this software will help provide insight into working solutions relating to your products and services. You will get unbiased feedback that will help improve your sales and grow your business. Your products will be more customer-oriented, and this will help build your business reputation in a very competitive marketplace.
Measured Satisfaction:
Customers play a crucial role in the success of any business. Your financial performance is only guaranteed when you can satisfy the needs of your customers. Your business will benefit from the product feedback management software because it helps you connect with them and understand what they expect from your products.
Valued Opinions of Customers:
By simply asking your customers and others about how they feel about your products or services, you indirectly pass a message across that you value their opinions. Customer feedback plays an important role in the future of your company. It also shows that you are loyal to your customers and are determined to provide them with what they want.
Creating a Unique Experience:
There is a lot of competition, and you want to portray your business in the best possible light. The most effective way to go about it is by giving them the best customer experience. With the Userwell product feedback software, you can meet your customer's needs by acting on their feedback. This will win their confidence and, in turn, improve your sales.
Enhanced Retention:
A satisfied customer is a happy customer. You can keep your customers by maintaining reliable data that helps you identify your weaknesses and strengths. This will help you keep track of your improvements and also help you avoid mistakes that displease customers. When you use this software, you can keep track of dissatisfied customers and help find a solution to their complaints.
Better Business Decisions:
The product feedback management software will help your business grow in a competitive market. Your team will have access to product data that will help in your business decisions. Feedback from customers will help you develop new products but also improve on them. The insights received from this software will help you make the right financial decisions that will be profitable for your business.
Benefits of Getting the Product Feedback Software
Deep Integration
It is a software that can integrate with other systems which your company uses. It will extract data from other data sources to help you develop new product ideas.
Data Visualization
This software also has a reporting feature that allows you to share your research with your team and also reports collected.
Workflow
Data analyzed can be routed and easily interpreted by your team. You can set up a customized workflow that makes it easy to take action on the data received.
Conclusion
The Userwell product feedback management software has been tested and tried by others. Most people who have used this software can guarantee that it would help in the smooth running of your business. Try out this product feedback management software today and allow it to optimize your product feedback. It will save you a lot of money and also increase your ROI. You don't want to waste money on products that don't sell, and that is where Userwell comes into the picture. This software is easy to navigate and operate. You can collect and utilize data received to help you deliver better products to your customers. Start connecting with your customers today by learning more about this software issue. They have technical supports that are available to answer your inquiries.