The world of personal finance and business has been increasingly online driven, though now more than ever. Admit the global crisis, business owners and website managers alike are drowning in new and improved competition for attention in their online presence. Many businesses are putting more and more effort into their social media outlets, personalized websites, and putting their hats in the draw for search engine visibility. Because this is such a booming industry, the need for a competitive edge with more information is more pervasive than ever.
Knowledge is power in most situations, but being able to finely tune a user's experience to meet their needs, expectations, and realities is among the best ways to beat the heat of your competitors.
That's where SEOBase comes in.
SEOBase acts as an all-inclusive reporting service that allows its customers to see exactly where they stand in terms of online visibility and functionality. With a comprehensive report of data ranging from common keywords to mapping organic traffic spikes, SEOBase is one of the easiest ways for any business, new or established, to make a way for themselves in the growing competition in the online world of today.
What is SEOBase?

SEOBase is an online reporting and tracking software that allows for easy access to vital information for online growth and promotion. SEOBase recognizes that the key to growth is first understanding where the baseline rests, and then how high the potential for growth could go. To this effect, SEOBase offers 5 invaluable features for their customers to enjoy, all centered around the optimization of understanding the traffic of their websites, where it comes from, and what the next steps could be. From generalized rank tracking to overall reporting concerns, SEOBase has got you covered.
What Do I Get With a Subscription?
To start, SEOBase recognizes that online services may require different levels of information gathering, and believe you should only pay for what you need.
For this, SEOBase has 4 subscription types, ranging in price and availability of features.
The free subscription is a great way to test the product before you invest. This plan offers tracking and optimization for up to one website, complete with 3 keywords and all involved SEO tools without a credit card needed. Customer support is available with this option, and the service offers a team member for additional help.
The Basic subscription is a standard package running for $7 a month, though a discount is offered if billed yearly instead. This package includes tracking and optimization for up to 5 websites and 50 keywords. This option includes support from 2 team members and customer support, but with the added benefits of tag management, comprehensive reports, and desktop and mobile device support as well.
The premium service SEOBase offers runs a little bit higher in terms of cost, sitting at around $27 monthly. The discount available for billing yearly is comparable, averaging at around $22 a month instead. This plan offers all the previous one does and more, including up to 50 websites, 500 keywords, and 5 team members for support instead of the 2. Premium customer support is also included.
Last but not least, the professional subscription averages $97 per month or $78 a month if billed yearly. This package includes up to 300 websites, 3,000 keywords, 30 team members and premium support. All SEO tools are available for the subscription cost.
Good to Know
To get started, the free plan doesn't require any kind of payment method, though once an upgrade is made, the account settings can be changed at any time.
Most subscriptions will auto-renew unless cancelled prior to the billing date. Your service can be cancelled, changed, or upgraded at any time and the account can be deleted if needed as well.
Any and all purchased plans will be documented on a trackable invoice for convenience.
Features of SEOBase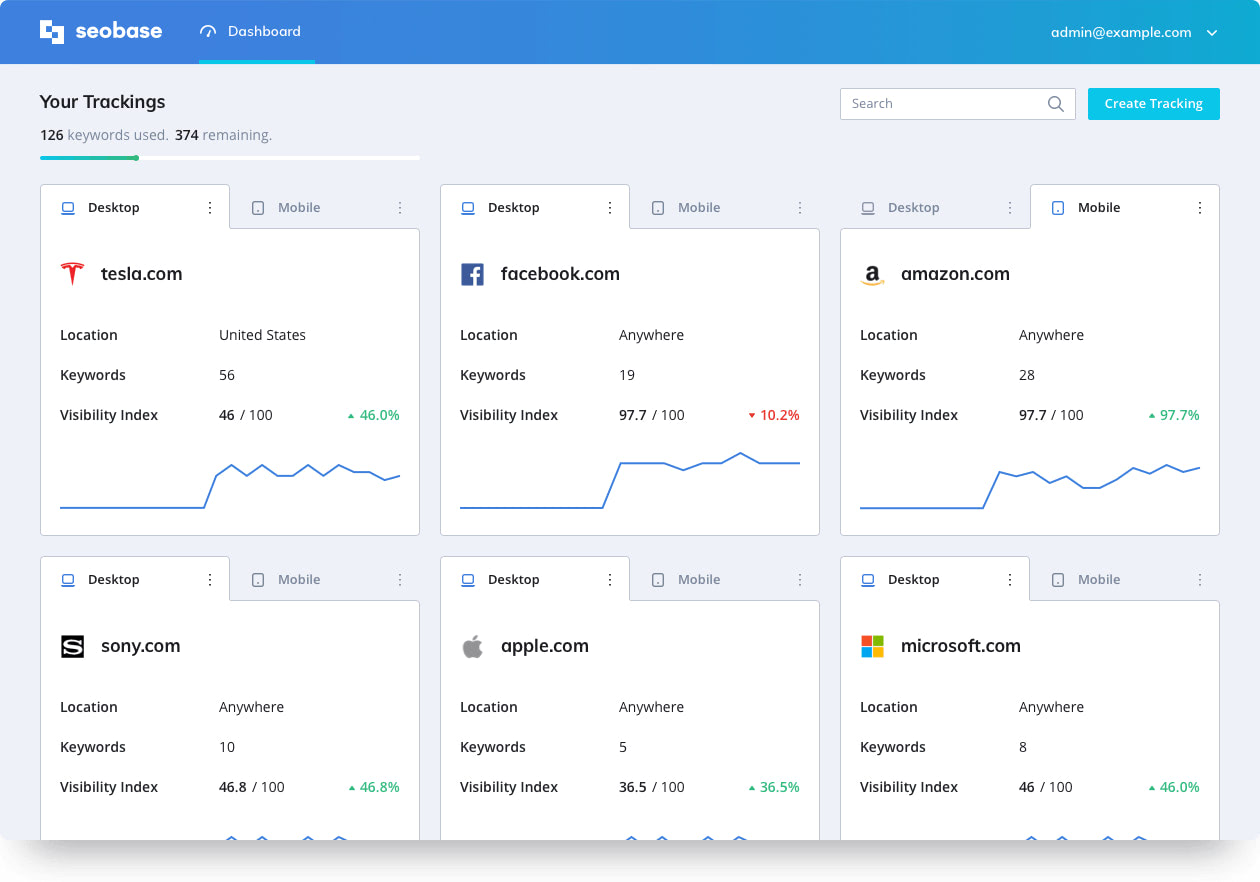 The 5 primary features of SEOBase provide an all-inclusive tracking and reporting experience for the growth and potential of any online business.
Rank Tracking
Used for the purpose of tracking performance in search engines, the Rank Tracking feature offers metrics for a full view of where the website sits. With the added visibility of desktop versus mobile device traffic, it's easier now more than ever to get a full view of website performance. Tracking metrics allow for the potential of organic growth, and the timeframe mini feature allows for a time based look at growth swells and dips as things change over time.
KeyWord Management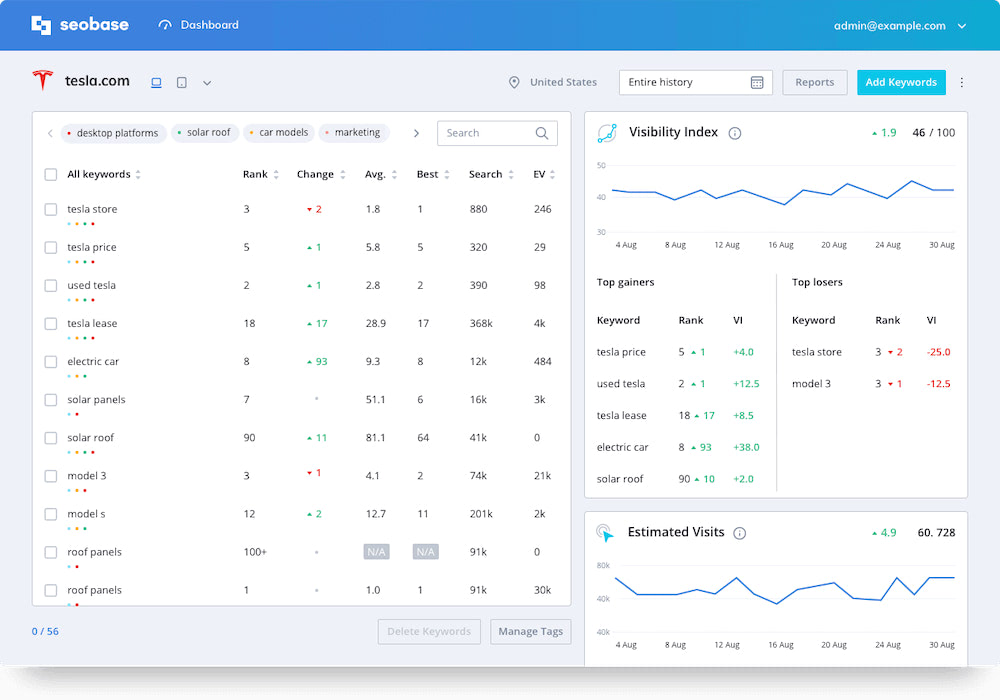 Keyword management allows for the strict monitoring of performance based on keywords specified by you. You can add new keywords to track at any time based on your subscription type, and duplicate words are automatically removed for your convenience. This feature allows you to review ranking URLs based on the keywords provided, as well as the position history. The volume history tracking feature also allows visibility to a keyword's performance to promote further growth.
Tag Management
Relating to keyword tracking, Tag Management is a way to categorize tracked keywords. This proves to be a unique organization tool to keep the entire tracking process as streamlined as possible. Keywords can be organized by colored tags to specify type or product. Tags allow for easy recognition of keyword types, trends, and activity. These critical pieces of information can completely transform your online presence with just a little bit of positively geared information.
User Management
As briefly discussed in the subscription section, SEOBase offers a limited number of team member support for access in the service. The user management feature allows a comprehensive user overview and a way of managing your team all from one place. Based on your subscription plan, you can invite up to 30 team members and specify roles within that team all from the user management interface.
Easy Reporting
All of the information gathered and found from the SEOBase tools listed above can be found in an easy to understand reporting system. With team availability, it's important to be able to share this information between multiple people which is made possible with the Multi-Person Assigning mini feature. Scheduled reports, whether daily, weekly, or monthly, are meant to keep you and your team up to date on the happenings of your website, leading to new growth and potential as trends change.
Conclusion
Based around the world, SEOBase is an incredible service with a dedicated team of developers and business people ready to serve your need for information. The quality of the reports is of the utmost importance to this customer-driven company, and the features they offer provide thousands of happy customers the knowledge they need to make a big impact in the online communities they serve. Pricing is flexible, reasonable, and affordable for the amazing platforms SEOBase provides.
Online culpability is a growing demand for businesses worldwide. The ability to establish and map the trends of information in an online interface can make or break a company in the long run. With the tools, SEOBase provides, a little know-how, and sometimes a lot of patience, it's possible to break through the basic experience of online establishment and really thrive in the online space.