Unless you're a pro web designer, it's likely that you're going to want to utilize some website templates while building your site. These templates often give you all the enhanced functionality of a complete website in a simple-to-install package. There will be no need to construct entire websites using code because the templates are already pre-designed for you. Although templates can be seen as restrictive in some instances, they actually have plenty of unique functions that allow you to stand out among the less spectacular sites.
HTML and CSS are generally the codes used to create responsive website templates. Of course, with a template, you won't have to actually know any of the code unless you want to edit something here or there. Otherwise, the template is going to be in perfect condition from the start. It's also important to use "responsive" templates. Responsive isn't just another haphazard adjective used to lure in customers. It actually refers to a specific kind of web design aimed at improving the functionality of the website across a variety of different platforms (including mobile phones and desktop monitors). It aims to ensure that sites are easily navigable, readable, and scrollable. It also limits any difficulties with resizing and includes a wide variety of different vital functions. It should also be pointed out that most of these templates are compatible with all major browsers.
Here, you'll find a list of 20 responsive HTML and CSS website templates that can give you a bright, clean, and professional website in moments.
Premium Responsive Website Templates
Startup Website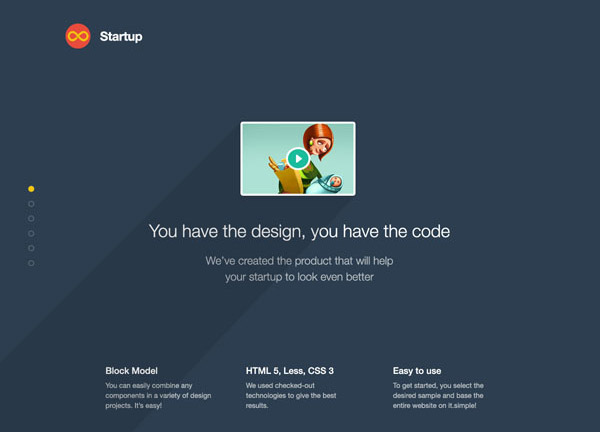 Deal website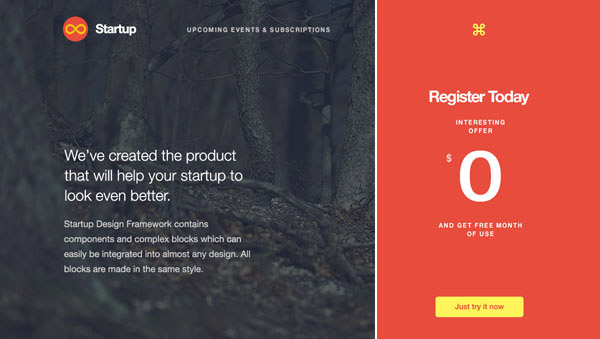 Video website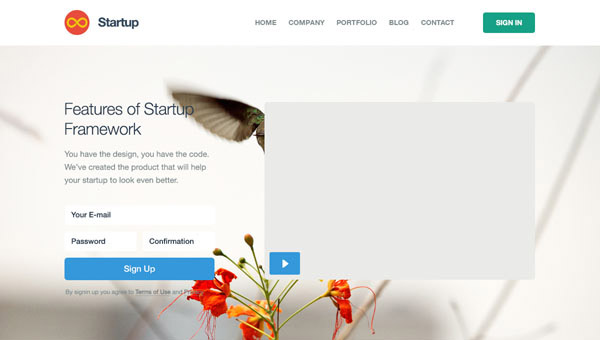 SmartStart – Responsive HTML5 Template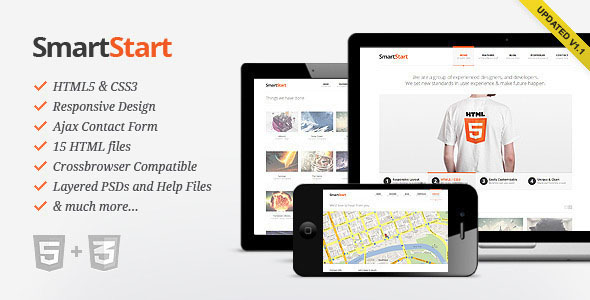 The SmartStart template comes equipped with 15 different page templates along with jQuery optimization. The template also has its own custom slider and a built-in AJAX contact form. The clean, crisp design will work for virtually any style.
Responsives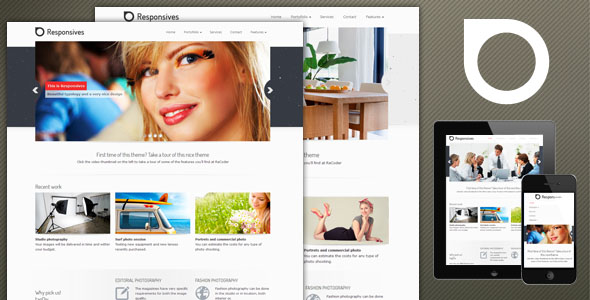 Responsives really plays on the "responsive" web design technology with enhanced functionality and smooth, modern designs. It provides you with the ability to add your own JavaScripts without interfering with the site's core theme. You can also expect blazing fast load times even though the features are quite extensive.
Developr – Fully Responsive Admin Skin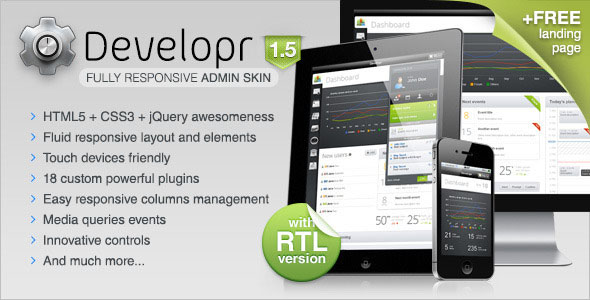 This particular plugin won't give you the complete websites you might need, but it will give you a fully responsive administrative application. It is based on a mobile-first design that optimizes it for mobile packages. You can put all your graphs, charts, and any administrative functions onto the plugin and take it with you anywhere.
Gebo Admin Responsive Template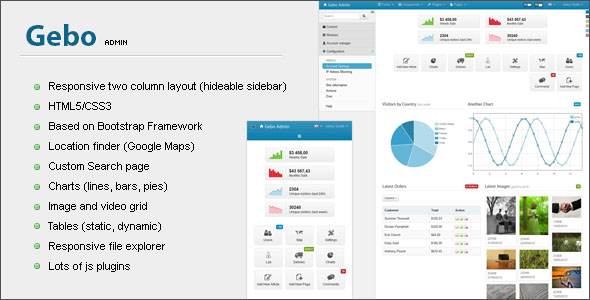 The Gebo Admin Template is full of JavaScript plugins that make it easy for you to create charts, graphs, grids, calendars, and more. It's also got a WYSIWYG editor and a two-column design for simple, effective use.
Zwin – Responsive Vcard Template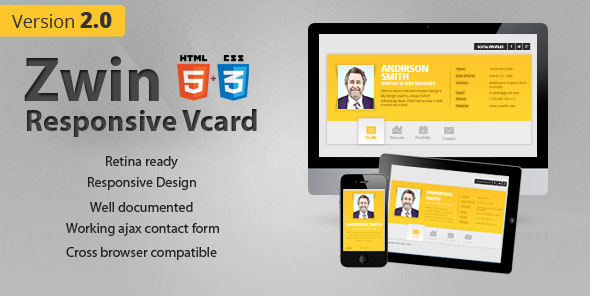 Versatility is the name of the game with this template. It has a variety of different uses but is most effective for profiles. It runs fast and has an AJAX contact form with integrated Google Maps support. With smooth animations and a vibrant design, it could catch the eye of many different people.
Locus – Responsive One Page HTML Template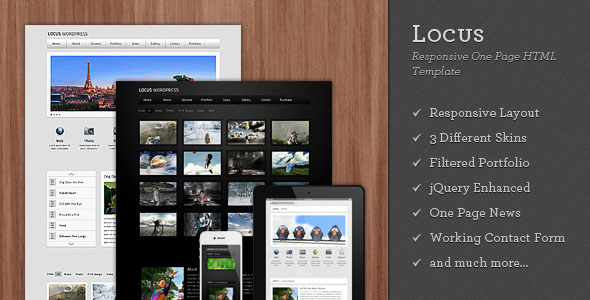 The Locus HTML template keeps everything on one page while still offering eminent functionality. It features, of course, one long scrollable page that is sectioned off to provide the illusion of many different pages. A sticky menu at the top keeps everything within reach as you descend and ascend through the site.
Aquincum – Premium Responsive Admin Template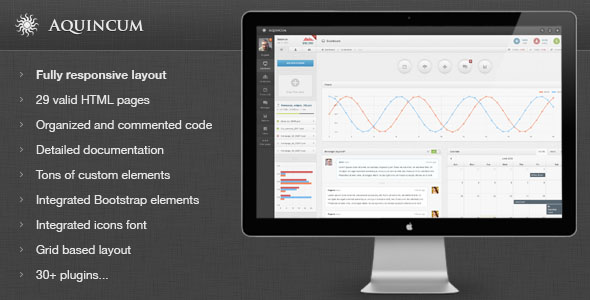 This admin template features over 30 different plugins along with 29 valid HTML pages. It effectively works to simplify the process of administration through simple, sleek designs and the ability to create a wide variety of different functions.
White Label – a full featured Admin Skin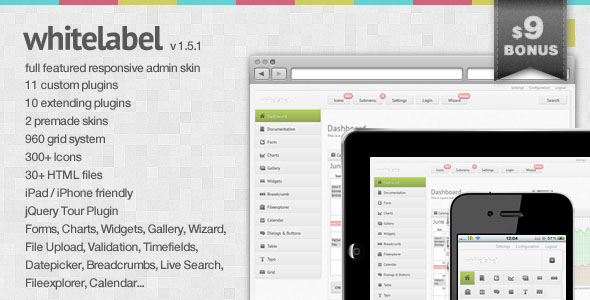 With 960 grid systems, over 300 icons, and over 30 HTML pages, there will be no shortage of options with this admin skin. It comes with tons of JavaScript features including unique sliders, charts, error pages, and more.
Synergy – Responsive & Interactive HTML Portfolio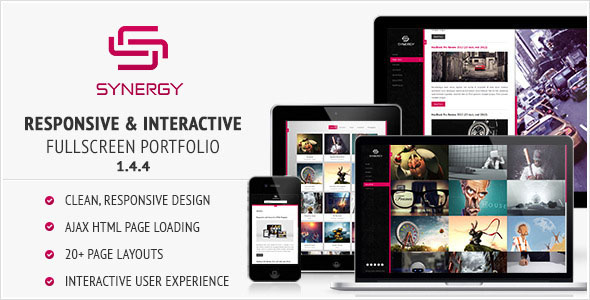 With a holistic full screen layout and high-quality graphical effects, this portfolio can help you step up your game. You can have full screen video and images along with text posts that can be formatted to meet your particular needs.
Centum – Responsive HTML Template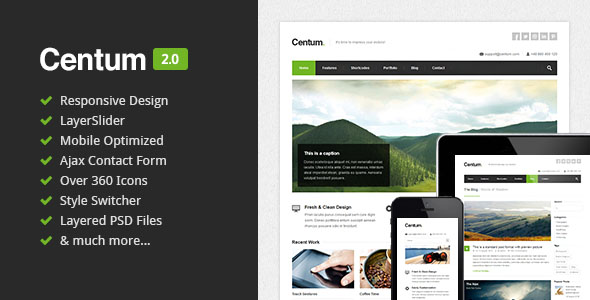 Here you'll find a clean, simple layout with integrated sliders and loads of customizability. It's full of short codes with an easy animated design that's pleasing to the eye. It is primarily optimized for portfolio delivery, but can serve a variety of other purposes as well.
Supr – Responsive Admin Template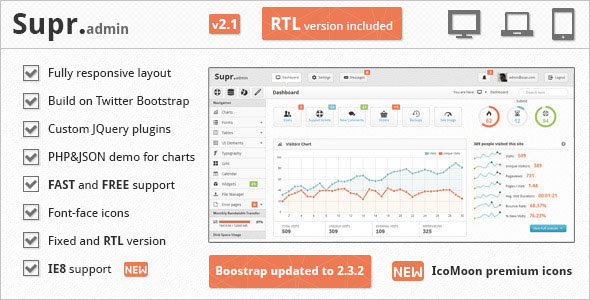 Based on a Twitter Bootstrap system, the Supr admin template provides you with jQuery customizability and a bevy of different features for you to choose from. There are features like typography, galleries, tables, and many more when using this template.
Agility – Responsive / Minimal / HTML5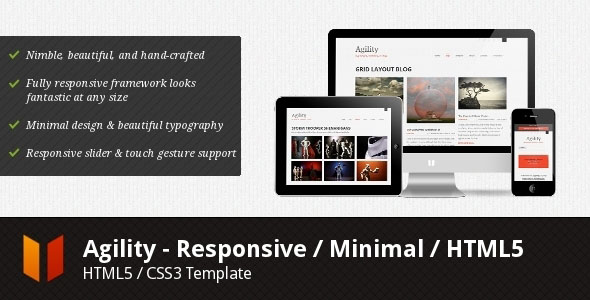 The minimal design and extreme ease of use with this template make blogging and sharing photos a breeze. The design is also super-elegant with typography that ranks among the most aesthetically pleasing. It operates with a grid system to help make navigating even easier.
Crevision – Responsive HTML Template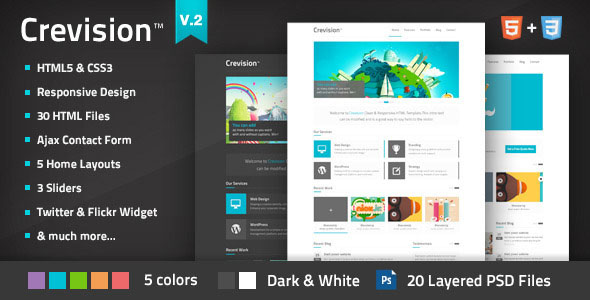 Featuring smooth designs, five dynamic colors, and three sliders, Crevision's template is certainly something to behold. You can choose between dark and light themes to create a virtual ambience suited to your content. It features a grid design with intuitive menu options and a whole host of other features to choose from.
SCRN – Responsive Parallax Template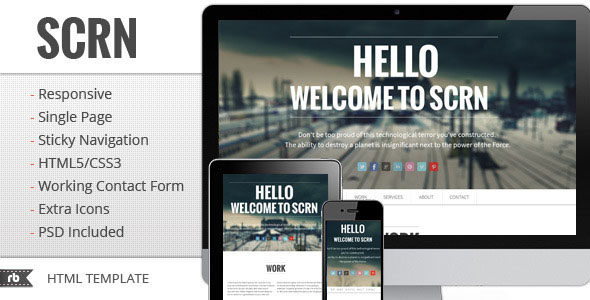 Working on a single page with sticky navigation, this template makes cycling through pages fun and easy. You just click the page button on the sticky menu and you're transported either up or down to the correct portion of the page.
Cascade – Responsive Personal vCard Template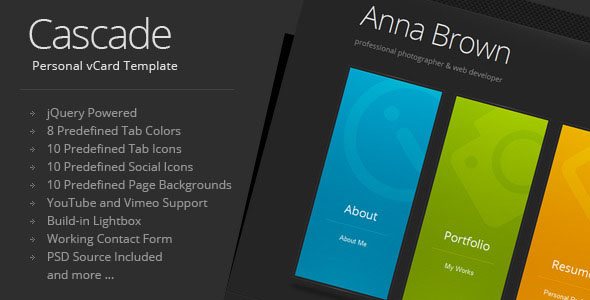 The minimalist design for this vCard template comes complete with 8 page colors, 10 social icons, and 10 page backgrounds to choose from. It is essentially scrollable cards that can be clicked to take you to information about yourself. This design works best for portfolio websites.
VALERA – Responsive HTML Template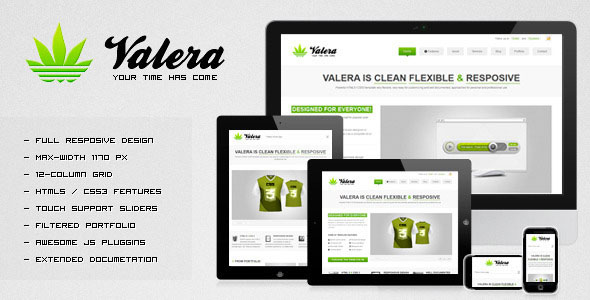 The VALERA template comes with three premade portfolio pages and two blog pages. It has preeminent flexibility and can be customized to fit the individual needs of the webmaster.
FluidApp – Responsive Mobile App Website Template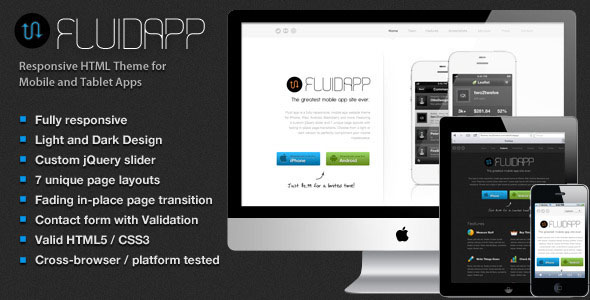 Optimized for mobile devices, the FluidApp template provides users with a smooth design, dark and light versions, and a custom jQuery slider on the homepage. It's easy to setup and can be taken with you on the go with a variety of different mobile options.
Incredible – Responsive HTML Template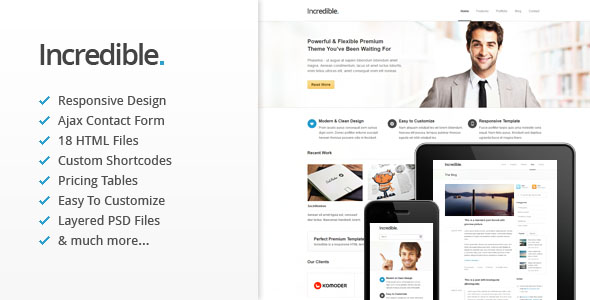 Featuring 18 different HTML templates, a dynamic slider with smooth transitions, and a number of other features, the Incredible template is truly incredible. The sleek professional design allows for easy navigation and a wealth of content on several different pages.
Crown – Premium Responsive Admin Theme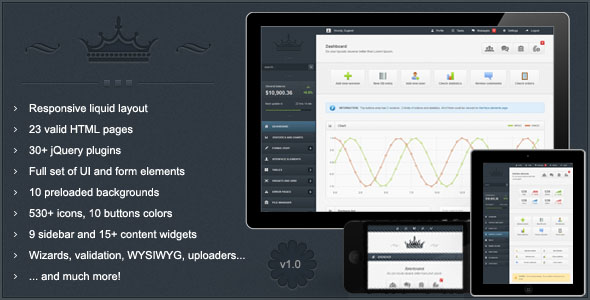 With this admin theme, you can maintain all the daily operations of your business. From checking invoices to creating graphs, there's virtually no shortage of things you can do in the admin panel. There are also 10 premade background, a WYSIWYG editor, and sidebar and widget options as well.
Super Skeleton: Responsive, Minimal, Beautiful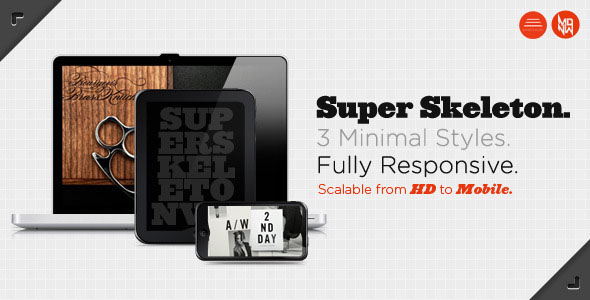 With 3 minimal skins and a smooth, professional design, this theme could be useful for a wide range of different options. It is not too flashy, but it doesn't really need to be. The elegant, modern elements combine with customizability and 20 HTML template files.
Overall, every website needs a unique theme. While you are technically purchasing themes from other developers, you can still customize these themes in such a way to make them wholly your own. It also takes away the tedious task of editing the code and making these themes on your own. With tons of customizable options and a definitive usage factor, you're sure to find all sorts of options from this list.