Mediastack is a free and simple to use live news source with easy to navigate blog articles. Mediastack is a trusted news data resource for more than 2,000 companies worldwide. Mediastack powers live news feeds using data analytics across a variety of platforms.  Because of using accurate analytics, mediastack helps you peruse global news trends. 
Mediastack is used by thousands of individuals, universities, and non-profit organizations that provide a reliable source of live news. The goal of mediastack is to supply a fully reliable and easy to REST API for real-time and historical news data.
What is Apilayer?
Apilayer launched its new product, mediastack. Apilayer uses application program interfaces or APIs. APIs offer a set of functions and procedures that allow the creation of applications to access features or data from a service.
Apilayer is a provider of APIs and SaaS applications for developers. Apilayer launched mediastack to access news data into live news feeds, data analytics platforms, and trend analysis applications. This platform aims for affordability with its free option.
Along with their free option, you can also purchase paid options that provide real-time data access and increased bandwidth.
What is Mediastack?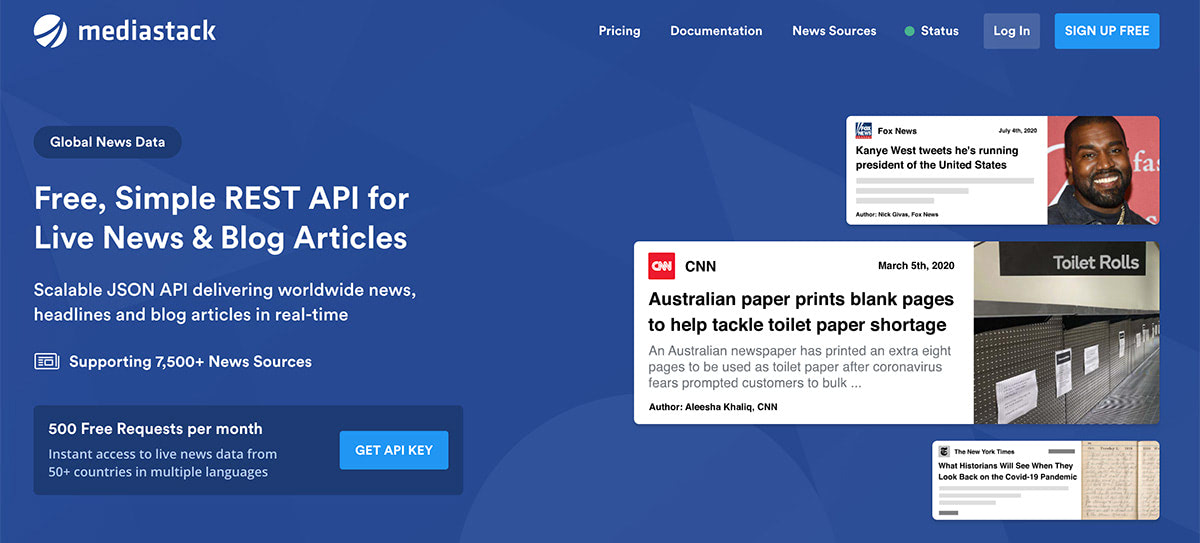 Mediastack sources news content every minute from an aggregate of over 7,500 news sources and blogs around the world.  The API provides this data to developers with documentation noting that API comes with a single news HTTP GET endpoint along with a series of parameters and options. 
API helps you narrow down your news data results with their parameters and options. The news data is gathered every minute from a variety of categories including business, sports, education, and many more. The mediastack API is free to use for a limited number of monthly API requests.
You can also use a variety of filers the help narrow your information. Having a wide selection of filters helps you navigate and explore your news feed with more direction. The filters include:
Dates
Timeframes
Countries
Languages
Sources
Search keywords
Who Created Mediastack?
The mediastack API is a product build and operated by apilayer, a global leader in microservice APIs running more than 15 data APIS, including currency conversion, IP address geolocation, aviation data, stock market data, and many more.
Apilayer's CEO was motivated to expand his portfolio with mediastack as a reliable news source because he wanted to create an easy to use a product that is affordable and provides a high-quality source of news.  
The value of information from reputable sources is necessary for the widespread use of platforms that spread information at an incredible rate that has never been utilized to this extent before.
The CEO discussed his overall goal of mediastack was to build a simple API that delivers news data in a standardized, lightweight manner this is not overly complicated or difficult to understand.  The overall integrations take only minutes and you are then set to go with the platform. 
The overall value of mediastack is its ability to display live news feeds on websites and applications and its ability to allow users to search and analyze news articles that are both live and in the past.
Price of API
There are a variety of options for your API. There is a free option that provides a limited amount of 500 calls per month and your news feed is delayed by 15 minutes. You can also access paid tiers that range from $24.99 to $249.99 per month with up to 250,000 calls per month.
If you choose to pay for your API you obtain access to all real-time news data and HTTPS encryption. This allows access to all historical data and technical support.
If you are a developer you can simply direct yourself around the service. Mediastack offers a three-step quick guide for any new developers that wish to participate with the API. There are code samples for ample documentation that you can take note from. The code samples included are:
PHP
Python
Nodejs
jQuery
Go
Ruby
Source of Mediastack's News Data?
Every minute mediastack API interface is automatically collecting news articles from 7,500 global news sources and blogs worldwide.  The API converts every piece of content into a standardized format that improves every user's ability to navigate and use.  
To allow for a high level of accuracy and consistency, every news source is monitored closely for any technical errors. Additional news sources are added continuously as they become available.
This API service is hosted on the apilayer cloud that is reliable, scalable, and highly available to deal with millions of API requests per minute. Mediastack's system can answer any request you have regardless of its volume to process.
API Infrastructure Explained
Your API requests are counted towards your overall API requests through each time the API is used to access or search news data.  Depending on what options you use, some of your queries may take up more than 1 API request.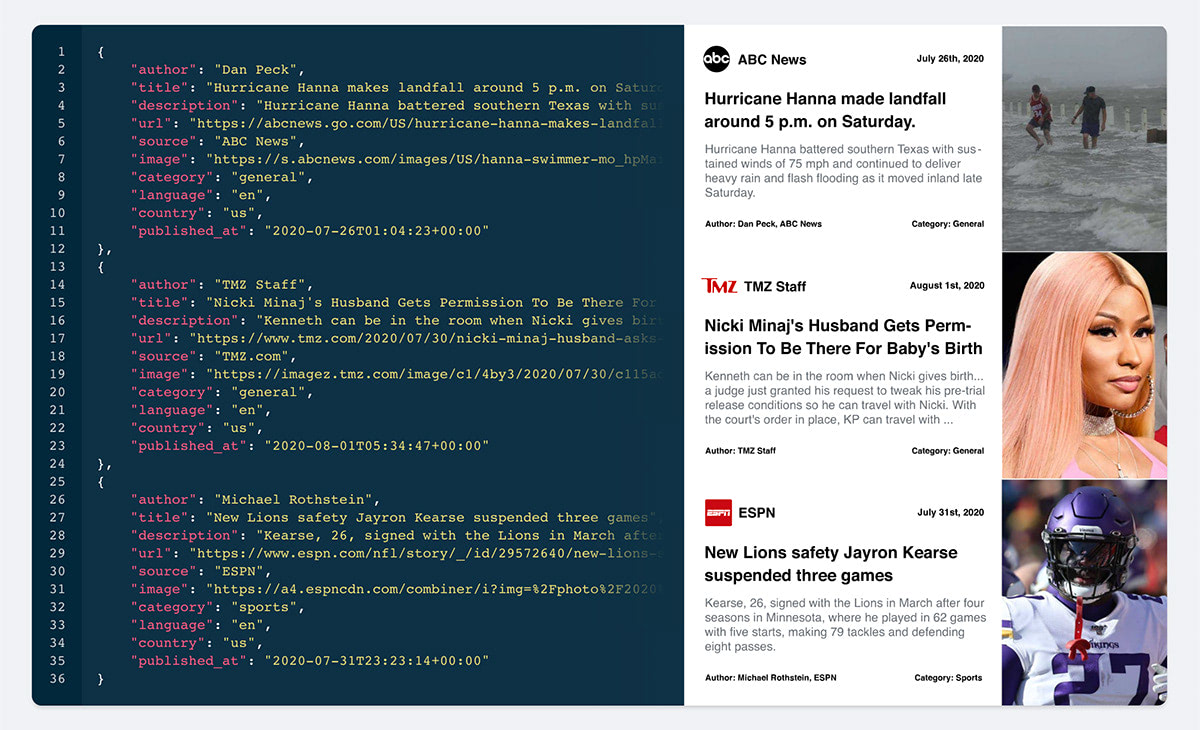 If you exceed your API request volume you can change your subscription option.  Each subscription plan comes with a safety buffer of 20%.  This means that you can make 120% of your monthly allocated API request volume during a limited number of months. 
To help you stay on top of your API, you will be notified via email as you reach 75%, 90%, and 100% of your quota. The uptime of API is built on top of a highly available cloud infrastructure that leads an uptime of nearly 100%.
Price of Mediastack
The free subscription plan of media stack allows you 500 monthly API requests. If you do not require more than 500 API requests then this is the best option for you. If you need more advanced features, such as real-time news data and historical articles than you can advance to the Standard or Professional Plan options.
If you need a higher volume than is offered on the website you can always reach out on the representatives to receive a quote. Along with the variety of subscription plans, you can also choose how you wish to be billed.
If you choose to be billed annually your yearly price drops by 20%. You can choose your pricing format during the signup or the checkout process. If you ever decide to change your payment frequency you have that option.
You can choose a billing option that is either monthly or yearly. You can also downgrade your account back to the original Free Plan if you are not using the amount required for a Standard or Professional Plan.
All of these offer a large variety of subscription options and payment options that can service any of your data searching needs.
Mediastack Summary
Overall mediastack is a highly competitive API that offers you the chance to receive your data from a variety of sources that are constantly checked for authenticity.  You can keep yourself current on all news of the past and present, which is a valuable commodity.
Mediastack offers a technologically reliable software that you can easily navigate and access when you need to. This is a technology that provides a service that is unmatched by any other competitor.